Retroist Fast Food Memories Podcast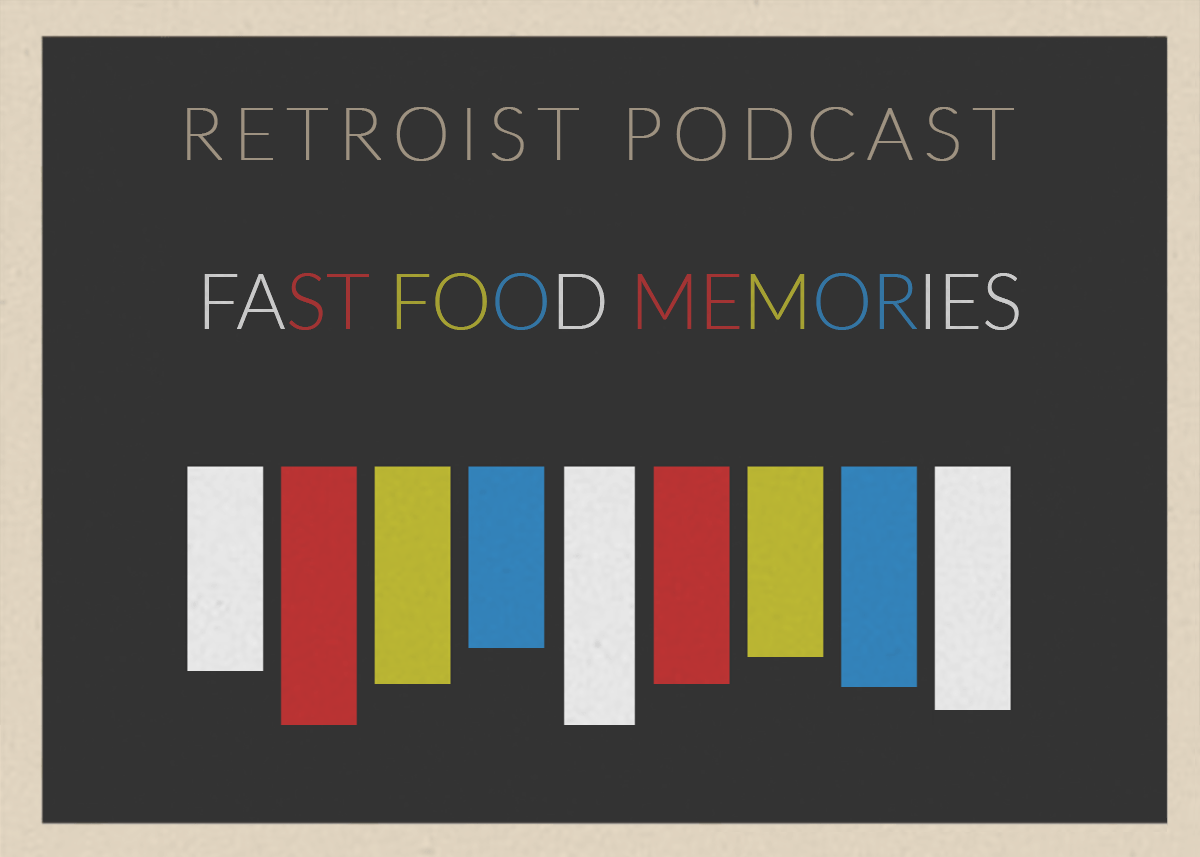 Welcome to the Retroist Fast Food Memories Podcast. This week I am joined by a large crew of folks who are here to share their memories about fast food. I hope you enjoy the show and that it triggers some positive memories about your favorite fast-food restaurant or experience. I have a lot of people to thank for being in this episode, so let's get to it.
Thanks to metagirl who is back on the show after some time away. Rick Reynolds is an avid Intellivision fan and you can find out more about him and his passion at http://www.rickandviv.net. You can find Chris' posts on the Retroist as drquest. You can follow him on twitter under the same name, drquest. Vinvectrex is a regular on the blog and podcast and you can find him on the site by searching his name, Vinvectrex. Thanks to Lo-Fi musician and original Vlogger, Weird Paul for his segment. Do yourself a favor and check out his wonderful videos from the 1980s at his YouTube channel and learn all about him at his website, WeirdPaul.com. Eric LeFeber is new to the podcast, he has his own Custom Action Figures Art Blog called Insidious Customs that you should check out.
(need to take a breath….)
Vic Sage is an editor here on the Retroist, so you can find him dishing up stuff almost daily. In addition to this, he is regular on the podcast and also contributes to one of Doug McCoy's podcast's or… McCoycasts. CT is from the Nerd Lunch blog and podcast and you can find out more about him and his high-quality podcast at nerdlunch.net ( I have been on 2x!). You can find the prolific Rob O'Hara on the Retroist and the Retroist podcast. He also has his own podcasts, You Don't Know Flack, which you can find at robohara.com and throwback reviews at throwbackreviews.com. Finally thanks to Tom Berges for his great story, you can find Tom online at IgrewupStarWars.com.
WHEW!
Subscribe and Support
If you have a moment please stop by iTunes or wherever you might download the show and perhaps give the show a quick rating. It is very much appreciated.
[iTunes] Subscribe to the Podcast directly in iTunes (MP3)
[RSS MP3] Add the Retroist Podcast feed (in MP3) to your RSS aggregator and have the show delivered automatically.
If you would like more retro fun, you can also follow me on the Twitter at http://www.twitter.com/retroist.
Listen and download the Retroist Fast Food Memories Podcast
Thanks for listening to the show and I hope you have a great weekend.