My Visit to the Northwest Pinball and Arcade Show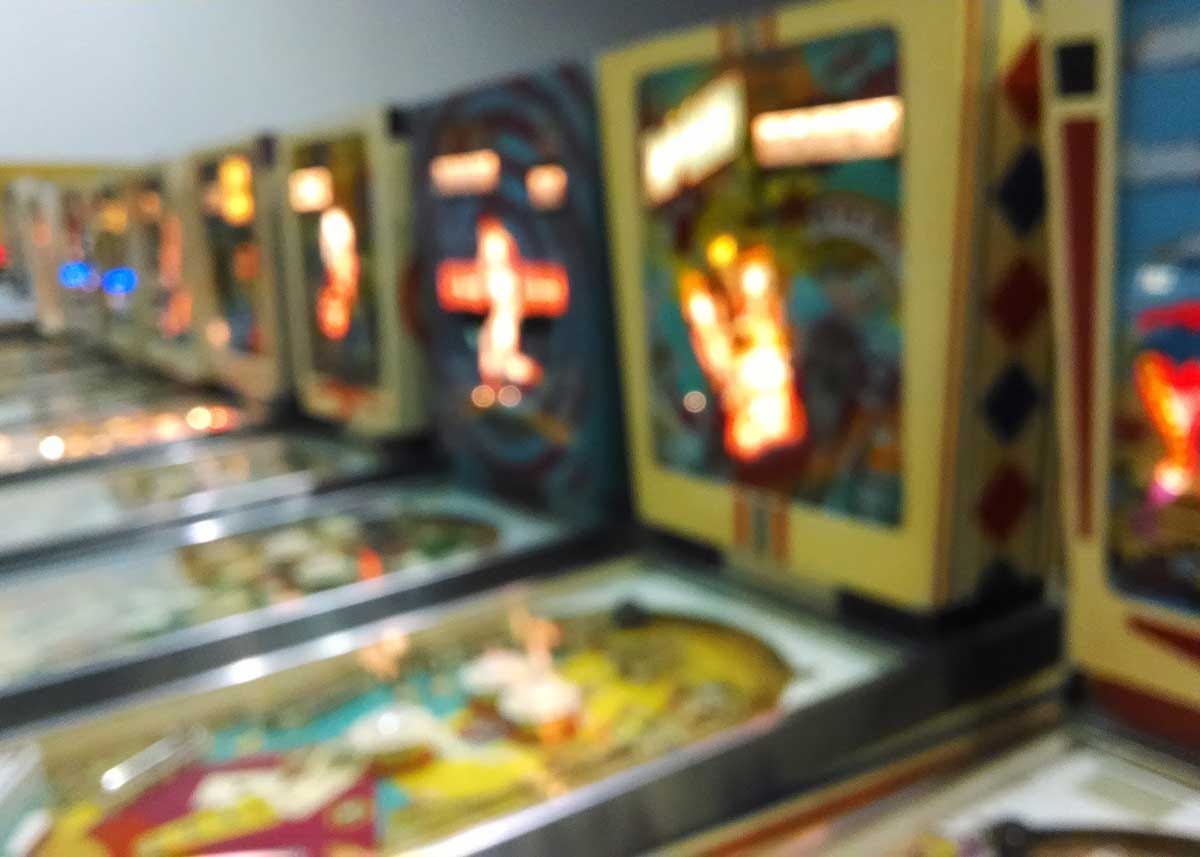 This weekend I had the great pleasure of attending the 2014 Northwest Pinball and Arcade Show in Tacoma, WA. This 3-day event is a glorious all-you-can-play extravaganza that, as I think you will see, is worth checking out.
This is not my first time at the show. I went to one last year for one day and I was smitten. So I resolved this year to go multiple days. My original plan was to go for all 3 days, but I was only able to manage two this year. I will explain that a little later.
The first day I went was Friday and I met two Retroist site authors/regulars. Blinddog, who is a game medic at the show and who brought many classic games with him to the event, and Tom Berges, who besides writing here on the site also has a great blog and podcast at Igrewupstarwars.com.
We met up as soon as it opened and we were one of the first people through the doors, which was a pretty amazing thing. Why? This show, which was larger than last year's, had 100s of video games and pinball machines in a giant hall, and being among them with so few people around pretty much gives you free rein of the place. It is an experience similar to how I felt entering the large arcades of my youth. Which is something that is almost impossible to duplicate anywhere else.
I was like a kid in a gigantic candy store — Not sure what to try first and overwhelmed by decisions.
Luckily Tom was there and we settled upon a game that Blinddog had brought to the show, Subs. This game, which is a lot of fun, was right on the corner on the center aisle and I saw many people snapping photos of it throughout the show. Probably because it has a cool two-screen setup that screams 1970s video games and an interesting corner-friendly form factor.
If you want to see why it was so overwhelming to be there, check out this video that Tom made that walks you through the entire game floor.
The next few hours were a blur. I played Rip Off, Monaco GP, Q*bert, Joust, Superman, Ms. Pac-Man, Phoenix, Pengo, Mappy, Krull, Popeye, Pac-Man, Donkey Kong 2, Burger Time, Karate Champ, every Star Wars game they had, Indiana Jones and the Temple of Doom and much much more.
Last year I was smitten with Rip Off, an old school co-op game that belongs to Blinddog as well, and this year it was still a superstar. For the life of me, I cannot figure out why it is not a bigger deal since it is such a great game. As I will tell anyone who will listen, if it had been ported to the Atari 2600 in some way, it would be considered a "classic" today. I certainly played Rip Off a lot this year, but another game worked its way under my skin, Pepper II.
I did not expect to fall in love with, Pepper II. I hadn't even heard of it as an arcade game. If you never heard of it, you probably never owned a Colecovision, which it was ported to. I never owned a Colecovision either, so this game was all new to me and I loved it. In it, you control an angel as you move around a grid, zipping up pieces and filling them in, sort of like in Amidar, but faster paced and with multiple screens, you can jump between.
If you are wondering if the first Pepper was a good game? You need not wonder, they never made a Pepper I, just Pepper II. I do not know why yet, but I am trying to find out.
Tom and Blinddog made for great arcade buddies and the day flew by and the whole way home all I could think about is how I could get better at Q*bert when I came back the next day.
I really thought I would go back on Saturday, but like a child who had consumed too much sugar for hours on end, I crashed hard when I got home. On Saturday I was pretty useless, spending my day on the couch, drooling and babbling about seeing the patterns of creation in Q*bert cubes.
On Sunday morning I was fully recharged and ready for action again. I got there just as the doors opened and I was really glad I did. It turns out I had hardly scratched the surface on day 1. Yes I spent a lot of time playing more Pepper II, Q*bert and Rip Off, but I also started playing some of the older Pinball machines, including a Back to the Future that was right next to a DeLorean.
Blinddog was there, of course, and he had a great surprise for me. One of the vendors was selling a Tomytronic Pac-Man, which I had been looking for in good shape, and he picked it up for me. I have wanted this particular game since I was a kid and my cousin owned one (and after it made a powerful appearance in Magnum PI), but I was never able to find one in decent working order. After bringing it home and giving it a quick cleaning, I popped in some batteries and turned it on. The audio on this thing is loud enough to wake the dead and the screen is crystal clear and strong. It is a great-looking peach of a game that I will enjoy for years to come.
On Sunday, in addition to gaming, I spectated at the Pinball tournaments, I played the raffle, browsed the vendors, I even watched an R2-D2 made out of Lego amuse the crowds. Then before I knew it, the day was over and it was time to go.
When I got home I started looking at my photos and Tom's video and I realized again that I had missed so many things. So many games and pinball machines that I could probably spend hours on, but which somehow I passed over in my frantic and overstimulated arcade game mania.
This is part of the magic of the Northwest Pinball and Arcade Show and why it is an amazing event. You just have so much choice. This is why I think I will continue to go to these shows as long as they keep putting them together. In a world where it is increasingly difficult to find an arcade and when you do, they often can't string together more than 20 or so properly functioning games, it is nice to know that a group of enthusiasts are willing to work so hard to put together an event that has 100s of working machines.
So thanks to all those hard-working volunteers. Those hands, brains, hearts, and strong backs who spend the entire year making sure their games work and then haul those games to Tacoma and allow complete strangers the honor of playing them. It is an inspiration to all of us who really enjoy seeing elements of what other people might call nostalgia being so vital and alive. I cannot wait to see you all next year.