Discover more from The Retroist
A Retro Podcast, Blog, and Newsletter.
A History of Pepsiman
In the mid-nineties, Pepsiman appeared in Japan to quench thirst and sell Pepsi. Let's take a closer look at this wonderfully quirky spokescharacter.
In the early 2000s, I was working in an office with a co-worker who was obsessed with toys and video games. We got along well. I recognized most of the toys on his desk, but a couple that looked like a spandex clad superhero emblazoned with the Pepsi logo puzzled me. What I didn't realize is that I was seeing a character that, while not well-known in the United States, was big in Japan, Pepsiman.
Starting off In the mid-1990s, as an advertising character. Pepsiman burst onto the scene and quickly became a phenomenon. With his bold red striped silver-clad suit, and the unmistakable Pepsi shield emblazoned across his chest, Pepsiman entertained and quenched thirsts. This quirky and unlikely hero quickly gained a cult following, becoming a cult icon in advertising and gaming. So let's delve into the fascinating story of Pepsiman, exploring his origins, impact, and enduring legacy.
Thanks for reading The Retroist! Subscribe for free to receive new posts and support my work.
The Origins of Pepsiman
Pepsiman originated in Japan as part of a marketing campaign by PepsiCo that featured a series of commercials that ran from 1996 to 2003. As usual, in the mid-1990s, the Japanese unit of the company was looking for innovative ways to promote their flagship brand, Pepsi, and increase its popularity among younger consumers. Who, they correctly assumed, would take to this muscle-bound silver digital superhero.
The commercials are simple. Generally, someone is thirsty and they cut to Pepsiman speeding towards them. He arrives and delivers some Pepsi with a trademark open-mouthed soda-sounding "burp." After delivering some refreshing cola, he would typically injure himself in some way. While, the character is compelling, it is these little moments of levity that make the commercials so memorable, and the character so endearing.
Many, if not all the commercials, appear to take place in the United States. While set in the US, the ads themselves have been crafted through the lens of Japan's perception of the United States. That gives them a uniqueness that makes them hard to stop watching.
Pepsiman was created by designer, Takuya Onuki, who drew inspiration from the superhero genre and combined it with Pepsi's iconic color scheme and added a healthy dose of whimsy. The result was a unique and instantly recognizable character that won hearts and found its way outside of advertising.
Twist of Lemon
To promote their Twist of Lemon version of Pepsi, they introduced two new characters to the Pepsiman universe, Lemon Pepsiman and Pepsiwoman. Lemon Pepsiman, looks just like Pepsiman, but with a Yellow ski mask that covers his entire head.
Pepsiwoman also wears the ski mask. She appears in only one commercial promoting the diet version of the Lemon Twist Pepsi.
Pepsiman Merchandise
My first encounter with Pepsiman was through merchandise. He would appear on a bunch of apparel, but probably most famously, he was featured on bottle caps with Pepsiman figures on the cap. They would do multiple sets over the years.
Some featuring Pepsiman injuring himself:
Others of Pepsiman with some foods that go well with Pepsi: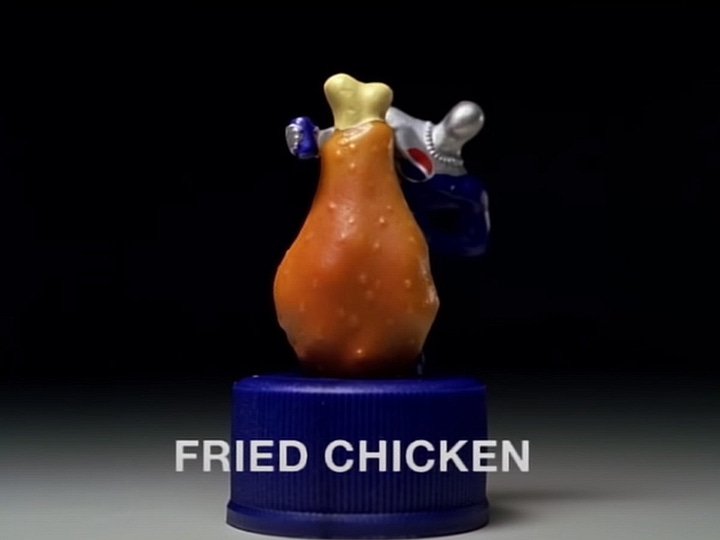 But probably the best set is the ones that featured Pepsiman interacting with the Universal Monsters!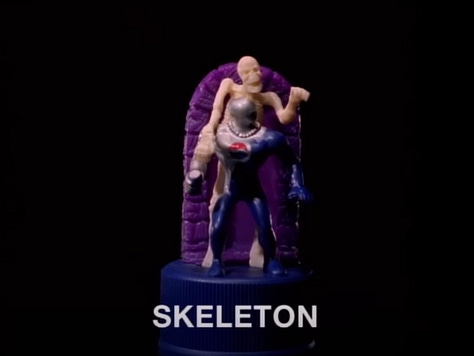 But the fun didn't stop there. In addition to those small bottle caps, he would be on this large electronic bottle cap.
These windup toys.
And, what I think is my favorite offering, this digital watch.
Just point your browser to eBay and marvel at all the merchandise they made. I have a long-running saved search there, and over the years many surprises have popped up that I didn't expect.
All this merchandise is fun, but it's not how most people outside of Japan are going to know this character. They will know him through his appearance in video games. Both his own and an appearance in Fighting Vipers.
Pepsiman: The Video Game
Pepsiman's video game debuted in 1999 on the original PlayStation console. Developed by KID, the game featured Pepsiman as the only playable character. He is tasked with delivering Pepsi to thirsty consumers in a variety of challenging levels. Players have to guide Pepsiman through different environments, collecting Pepsi cans while avoiding obstacles.
This game is one giant advertisement, but it's a creative one, and very playable. It also has some very unusual videos in the game.
They are of a real actor, named Mike Butters, drinking Pepsi, and they help to forward the story When you first see the footage, it is slightly confusing, but it works well and adds to the quirkiness of the game. Done to keep costs low, they work just as well if not better than an animated video.
The game's fast-paced and action-packed nature, combined with its humorous, and lighthearted tone, made it popular among gamers in Japan. But although publishers in the United States looked into publishing it, the game remained a Japanese exclusive.
As I mentioned, this game is why a lot of people know this character. Why? The internet. As online videos started to become popular on YouTube, people who featured video games started to discover or rediscover the game. That coverage combined with the game's uniqueness have helped spread the word.
If you do not have access to a PlayStation, you can still have the Pepsiman experience thanks to the Internet Archive. They host a bunch of PlayStation games, all playable through browser emulation.
Pepsiman: The Global Phenomenon
Despite being released only in Japan, Pepsiman would eventually gain international attention and became a global phenomenon. The game's unique and quirky premise, coupled with Pepsiman's distinctive appearance, captured the imagination of gamers and non-gamers alike around the world.
Pepsiman's popularity was further boosted by PepsiCo's clever marketing campaign, which in addition to the series of TV commercials, also featured print ads, and promotional events. Pepsiman has become a niche, but recognizable figure not just among gamers, but also in wider popular culture. Will Pepsiman return? Will his next set of adventures be more global? We can only wait and hope.
Thanks for reading The Retroist! Subscribe for free to receive new posts and support my work.