WrestleMania Moments of the 2014 Hall of Fame Class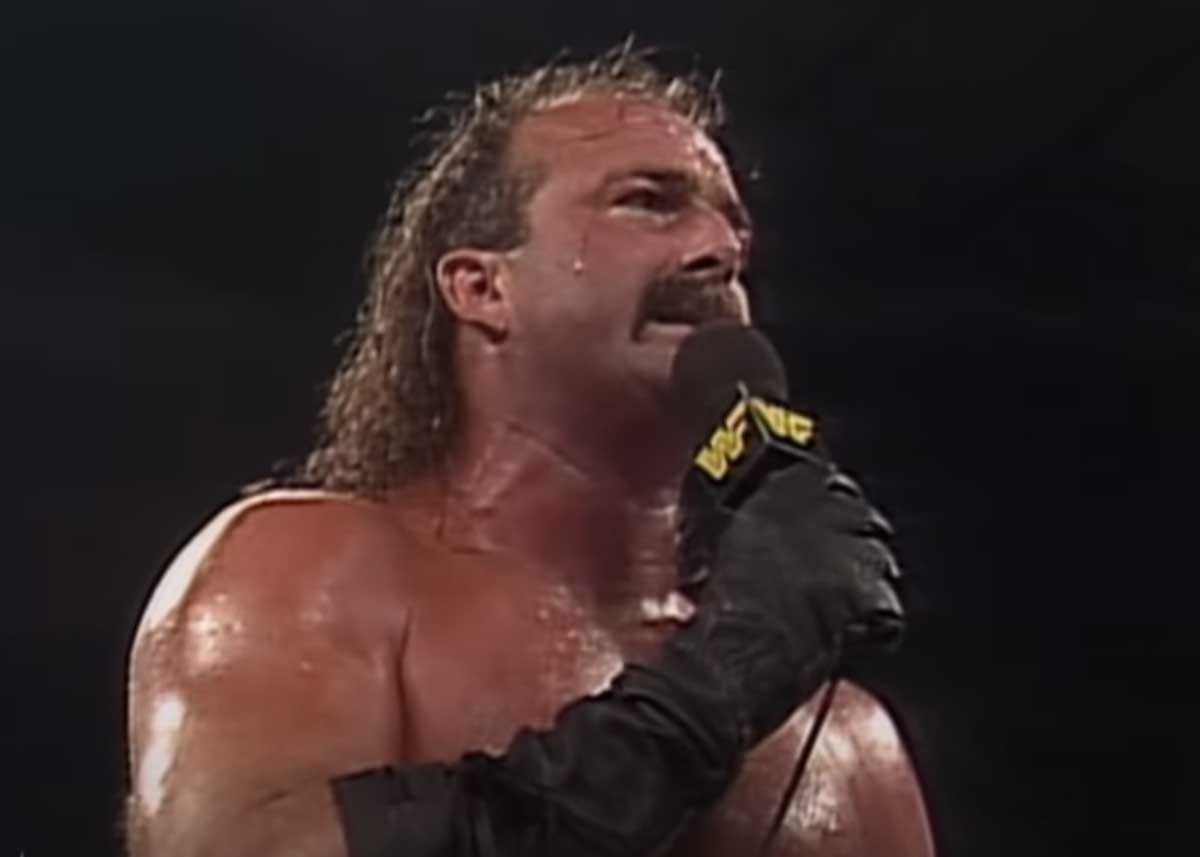 In just under 2 weeks, 5 former WWE Superstars and 1 celebrity will be forever enshrined in the WWE Hall of Fame. Unfortunately, none of them is Randy "Macho Man" Savage, but I think I've made my case about that before. But who is the class of 2014? And since the inductions take place on the night before WrestleMania XXX, let's examine each of the inductees and their big WrestleMania moment.
The Ultimate Warrior
James Brian Hellwig had been in the wrestling business for just over 2 years when he joined the WWF in June 1987. He had worked in various independent promotions and called himself Jim "Justice" Hellwig (and eventually just Justice). He gained notoriety during his tag team run with Steve "Flash" Borden (better known as Sting) as the Blade Runners. He then did just over a year in the Texas-based WCCW as the "Dingo Warrior", before heading the big lights of the WWF. He changed his moniker to the "Ultimate Warrior" and his meteoric rise to the top started.
In under a year, he was the InterContinental Champion, and in fewer than 3, he was in the main event of WrestleMania VI. He would face WWE Hall of Famer Hulk Hogan with both the WWF Championship and WWF InterContinental Titles on the line. Billed as the "Ultimate Challenge", the Ultimate Warrior would defeat Hulkamania, and raise both belts in victory, the only man in history to hold both titles at the same time. It was a lousy match, but undoubtedly, his career-defining moment. I personally am not a fan of his; his ring work was poor, and his mic skills were non-existent. The only thing he had was a look, oh, and he could shake the hell out of those ropes. For a fun piece of trivia, he legally changed his name from James Brian Hellwig to Warrior in 1993.
---
Jake "The Snake" Roberts
Second-generation star Aurelian Smith, Jr began his career in 1974, working for several of the old territories during his 20s. He wrestled under several nicknames, most very generic, like the Texan or El Diablo. In 1983, he started billing himself as Jake "The Snake" Roberts, and developed a legendary finishing move, albeit by accident. According to Roberts, he attempted a front facelock on "The Grappler" Len Denton, tripped over Denton's feet, and drove his face into the mat. After some practice, the DDT was born. Roberts then joined Paul Ellering's "Legion of Doom", and became a fast-rising NWA star, feuding most memorably with "The Hands of Stone" Ron Garvin. He bounced back and for the between WCCW and Mid-South Wrestling throughout 1984-85, and by then, he had caught the attention of Vince McMahon, Jr.
He debuted in March 1986 and captured the crowd's attention immediately. Jake understood ring psychology better than almost anyone in wrestling history, he was a master of moving around the ring with purpose, and his promos were dark and sinister. It also didn't hurt that he carried his reticulating python, Damien, with him to the ring for every match. Damien and Roberts' first big WrestleMania moment was at WrestleMania 3 for the Honky Tonk Man's InterContinental Championship. By this time, he was a fan favorite, but even the help of Alice Cooper at ringside didn't bring him a victory.
In my mind though, the feud leading up to WrestleMania 8 versus The Undertaker is his best WrestleMania moment. Jake truly understands ring psychology and how to master the crowd, and this quickly advanced the Undertaker's face turn. The match itself is short, only 6:36 but what it lacked in time, it made up for in drama. But ultimately, and I hope I didn't spoil this for you; The Snake became just another victim of The Streak.
Most know the alcohol, drug, and other issues Jake has suffered through over the years. His story is quite sad and I have refrained about writing about him before, and still choose not to. If you are interested to find out more, the internet is a treasure trove, or, just watch the 1999 documentary "Beyond the Mat", which I recommend anyway. "The Snake" will appear again in my upcoming "Stone Cold" Steve Austin write-up, so you will learn a little more soon. He currently lives with former WCW Champion Diamond Dallas Page, who keeps him off drugs and alcohol and on a strict Yoga regimen.
---
Lita
Amy Dumas was a college dropout and bass guitar player in Washington, DC, when she first saw Rey Mysterio, Jr on WCW Nitro. She packed up and moved to Mexico, took a job as an exotic dancer to pay for wrestling lessons, and started learning the business in 1998. She returned to the United States the next year and started to pay her dues on the independent circuit as a valet. She quickly garnered attention for her physical abilities (in-ring guys!) and worked in the NWA with young stars like Christopher Daniels and the Hardys, with whom she trained. In a few months, she was in ECW as Miss Congeniality, but she didn't stay long, as Rob Van Dam got her a chance to train with Dory Funk, Jr. Shortly after graduation from his wrestling school, she was offered a job in the WWF, based on a demo tape made by Dory's wife and sent to Vince McMahon. She was sent to the Memphis WWE developmental territory in November 1999 and paired with young luchador Essa Rios.
She and Rios made their debut on Sunday Night Heat in February 2000. Lita wowed the crowd with her moonsault and hurricanrana, which most American female wrestlers wouldn't consider attempting. Not long after, Rios was gone and Lita was paired with the Hardys to form Team Extreme. Her clothes were changed to a style she more liked, with baggy pants and a constantly exposed thong, which became her signature look. She also wore wrestling boots until her toes wore through.
Bad on the mic, but with her own look and unparalleled bravery in the ring, Lita became an icon of the women's division and 4 time WWF Women's Champion. But her romances became almost more famous than she was. She was involved on and off-screen with Matt Hardy until an injury forced him to be home while she was on the road. During this time, she cheated on him with Edge, and when Hardy returned, the WWF added the real-life tension to their storylines. Her biggest WrestleMania moment would have to be her triple threat match with Trish Stratus and Jazz for the Women's Championship at WrestleMania 18, which she lost, but Lita largely carried the action.
Lita redefined what women could do in the wrestling business, and is widely regarded as the best women's wrestler ever. She competed in hardcore, cage, and intergender matches, and was a daredevil whose moonsault was superior to most of her male counterparts. Fun trivia on Lita, she wasn't given a name before her first match on Sunday Night Heat, instead learning what it was while watching the match back in post-production. She has recently been romantically involved with former WWE Champion CM Punk.
---
Paul Bearer
Bill Moody was a longtime wrestling manager for multiple companies. Most remembered for his management of the Undertaker, in the WWF, he also guided the early careers of Mankind and Kane. I am not going to go deeply into him today, as I wrote Rest in Peace: The Passing of Paul Bearer last year. As a manager, he, of course, doesn't have what we call a big in-ring WrestleMania moment, however one stands out to me, at WrestleMania XX. Having not been with the WWE in 3 years, one of the loudest ovations I ever heard happened when the lights went out and Paul Bearer gleefully shrieked "oooooh yessssssss!", as he led Undertaker to the ring once more.
---
Carlos Colon
Carlos Colon is a Puerto Rican wrestling legend. He had his first match in 1966. He worked in the northeastern US and Canada until he returned to Puerto Rico in 1973. He helped found Capitol Sports Promotions which aired weekend televised wrestling. Because of his influence, a host of stars including WWE Hall of Famer Ric Flair, Randy Savage, and Bruiser Brody made multiple appearances there. He also had a long-standing feud with WWE Hall of Famer Abdullah the Butcher, and the pair spilled each other's blood for decades. He is the 26-time WWC Universal Heavyweight Champion, and although he doesn't have a WrestleMania moment, he was entrant #24 in the 1993 Royal Rumble. He was eliminated after 7:25 by eventual winner Yokozuna, having eliminated no one.
Carlos' WrestleMania legacy is, in actuality, his family. His sons Carly (Carlito) and Eddie (Primo) were WWE Tag Team Champions and defeated MNM at WrestleMania XXV. His nephew Orlando (Epico) also wrestles for the company and is currently partners with Primo as Los Matadors.
---
Mr. T
This year's entrant in the WWE Hall of Fame Celebrity Wing is Laurence Tureaud, also known as Mr. T. He was Hulk Hogan's tag team partner against Roddy Piper and "Mr. Wonderful" Paul Orndorff in the main event of WrestleMania I. He also appeared on the undercard of WrestleMania II against Roddy Piper in a boxing match. He and Piper didn't like one another personally and still don't today.
---
So there we are, this year's 6 entrants in the WWE Hall of Fame. In my opinion, this isn't one of the better classes, but still, we should appreciate what these men and women did to entertain us all. From Carlos Colon bleeding all over the world, to Lita's moonsault in TLC matches; even the Ultimate Warrior shaking those damn ropes. On some level, they all brought, or attempted to bring, a little joy into our wrestling hearts, so thank you all. Talk to you all next time, and keep your shoulders off the mat!