Discover more from The Retroist
A Retro Podcast, Blog, and Newsletter.
Vampire's Secret Ice Pops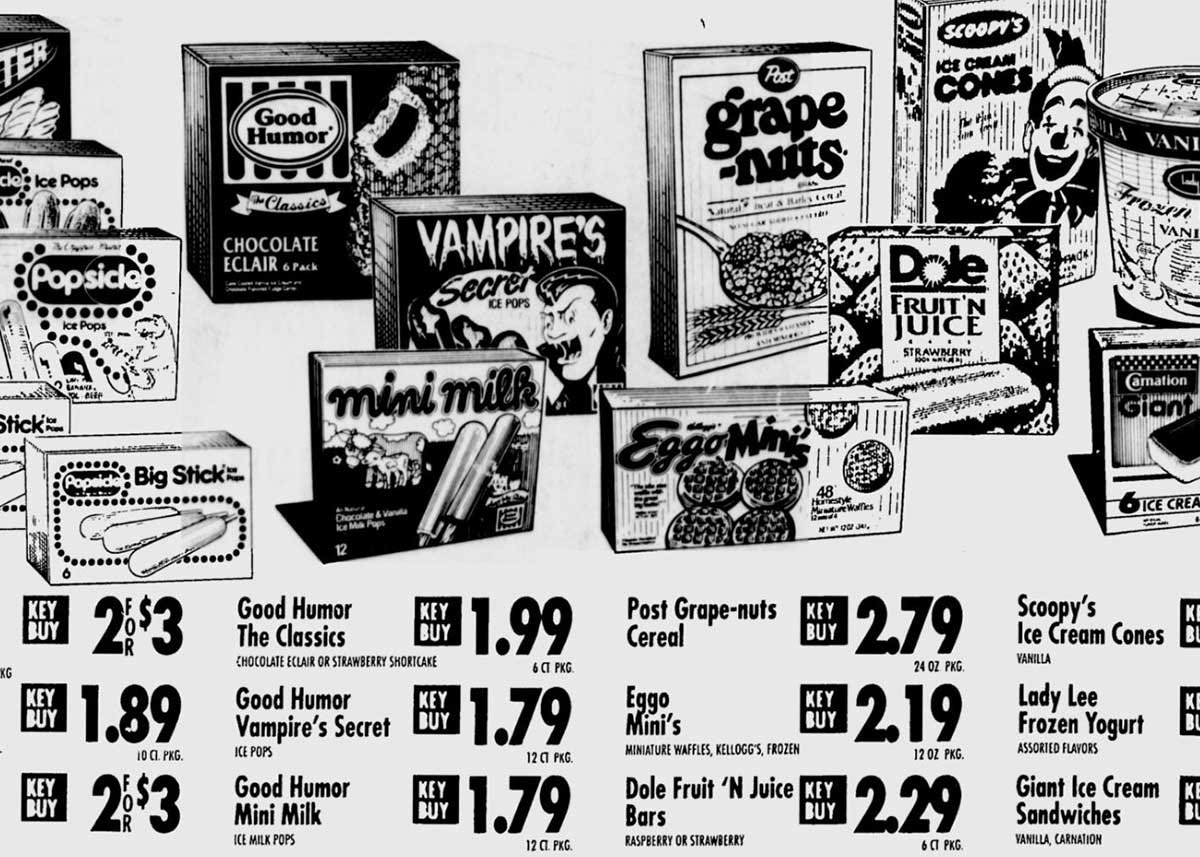 I want to see two ice pops be revived in my time. The Monster Pops that I never shut up about and these Good Humor confections, Vampire's Secret Pops. What's not to love about a black cherry ice pop with a red gooey center that is supposed to look like blood?
I liked them a lot.
I distinctly remember my first one. I picked up a box from them at our local Acme Supermarket on a Friday evening in the autumn of 1992. The box art with its smiling vampire was just too good to pass up and I love black cherry everything.
I was not disappointed. I ate the entire box that weekend. The sensation of eating one was oddly addicting. That red gooey center was a sugary prize and I couldn't get enough.
How much did Vampire's Secret Cost?
A box of Vampire's Secret Ice Pops ranged in price from 99 cents on sale or with a coupon to a regular price of around $2.50. A box consisted of 12 pops. The standalone pops from ice cream trucks and stores were usually between 50 and 99 cents. They were also a good deal larger.
For the remainder of 1992, they became my favorite evening treat. My bedroom was lousy with sticky black cherry wrappers and when I brushed my teeth, it was a disturbing red sugary mess.
Vampire's Secret also made it into Ice Cream trucks and eateries and stores that sold them individually. I have some recollection of them being a bit larger there. These were a different sized bar to justify a higher price tag.
These larger bars were marketed under a slightly different name, "Vampire's Deadly Secret." These were a 2.8 oz bar and as you can see from this trademark filing from 1992, Good Humor viewed them as separate offerings.
If you were lucky enough to go to a school that served Good Humor products, these might have been what was on the menu. I was able to find one lunch menu from Halloween week of 1992 in Lewiston, Maine where Vampire's Deadly Secret was on the menu.
The supermarket sized pop was 1.75 ounces and had somewhere between 40 and 50 calories if I remember correctly. This caloric fact stuck with me because I believed I used it as a justification to eat the entire box. I did find this summary of calories from 1992. I still thought it was closer to 50 calories, but if it was 40, these were a caloric bargain.
Vampire's Secret did not last very long in the United States. By 1993, they were impossible to find, but something similar did seem to last outside of the United States as Dracula Bars. While these seem to look similar to Vampire's Secret, I think the visual similarity is where it ends. When they re-released them in the UK in 2013, they were described as having a cola coating, blood-red strawberry jelly, and vanilla ice cream center.
While that sounds delicious. That is not my Vampire's Secret.
People have fond memories of Vampire's Secret. Some are even trying to bring them back. Sadly not a lot of activity there, but you have to admire the passion of a few hundred true believers.
A few years ago, I might have said that we would never see these wonderful horror-themed treats again. Times have changed though and retro revivals are constantly surprising me. So keep your eyes open and tell everyone you know about your great memories of Vampire's Secret.
And if they do come out, here is an expired coupon you can try to use at your Kash n' Karry to pick them up for a steal.