The Aquanauts and The Aquanauts Underwater Adventure Game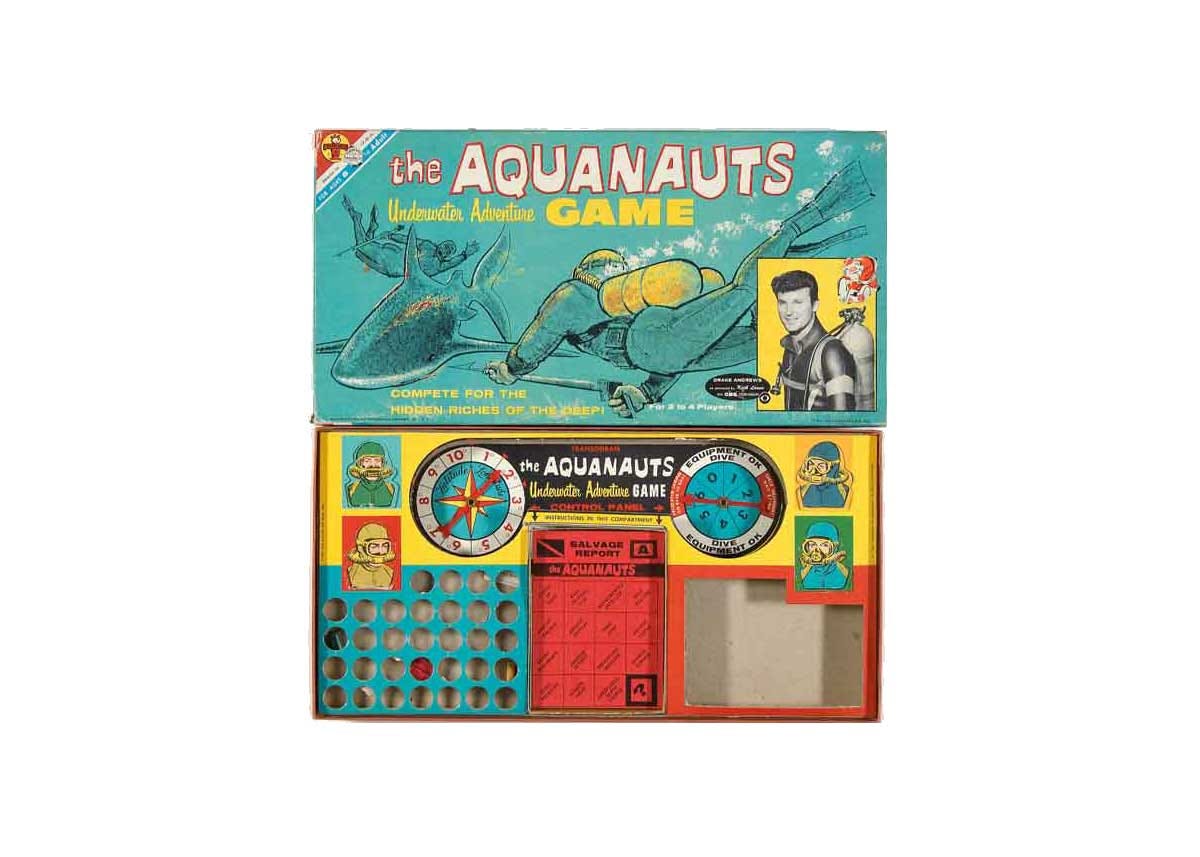 Aquanauts was hour-long series that focused on the adventures of two Southern California divers, Drake Andrews (Larsen) and Larry Lahr (Slate), who made their living salvaging sunken wrecks.
It only ran from September 14, 1960 to June 7, 1961, so it is not very well known. In fact, I am not even sure how I knew about it. Reruns? Family fan?
Who knows, but when I saw this Aquanauts Underwater Adventure Game for sale at Hake's Auctions, it sent the memories bubbling back. In all my years of visiting flea markets and garage sales I have never seen this game in the wild and the graphic work on it is very eye-catching. They are killing a shark on the cover!! Take that Stratego!
Unfortunately, the item is no longer for sale and has been removed from the site, but it was a great item to see, even if just briefly. It is also why I love browsing Hake's regularly.
According to Hakes:
9×17.5×2″ deep boxed game made by Tranosgram Gold Medal Toys And Games © 1961 ZIV-United Artists Inc. to compete w/Sea Hunt game. Box lid features art similar to #3142 but done in a different art style and includes a photo of Drake Andrews. The game is complete w/instructions. Game board has a 5-7/8″ square sticker on the reverse depicting a segment of the scene on the box lid. Insert has been punched and has some tears due to token removal. Characters' pieces have some wear where they are inserted into bases. Contents are VF. Box lid has one split corner, edge wear, VF. 1-3/8×1.25″ Christmas sticker. Scarce.