Discover more from The Retroist
A Retro Podcast, Blog, and Newsletter.
The 1986 Saturday Morning Lineup on NBC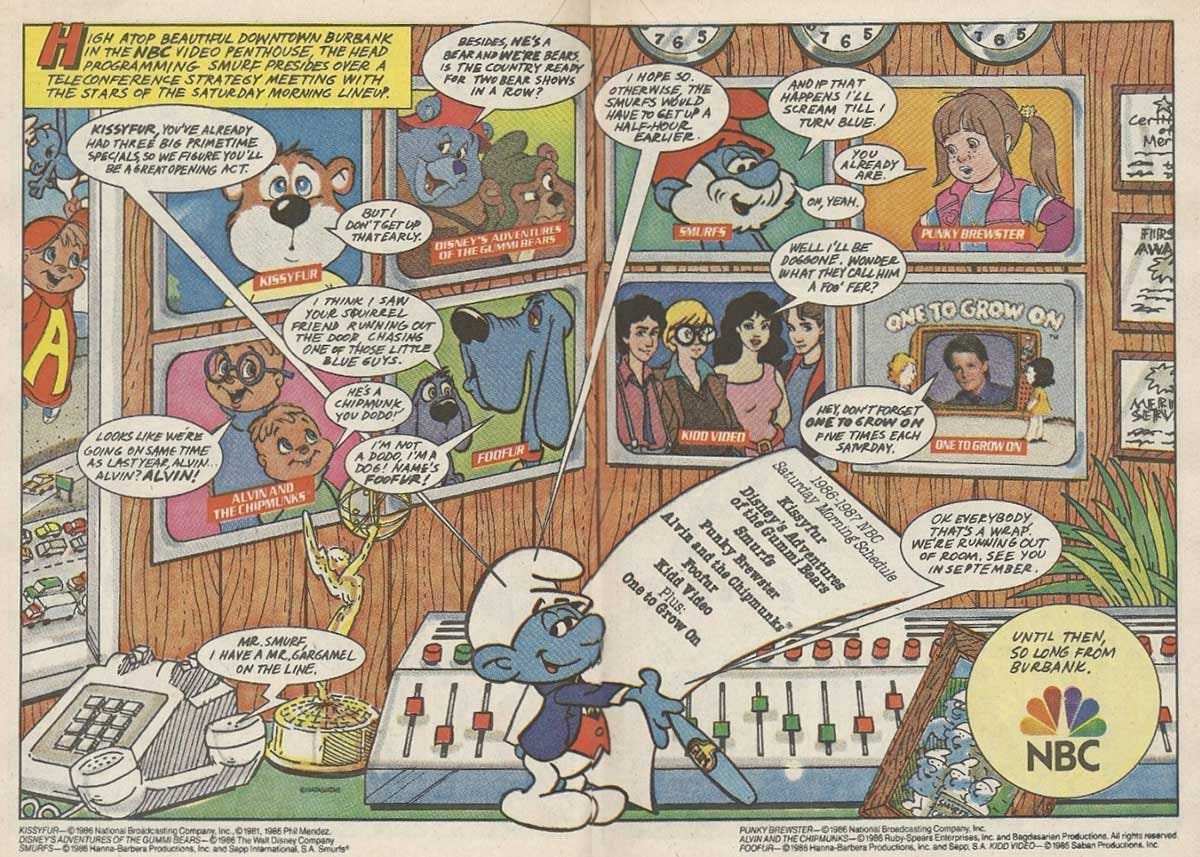 What a lineup NBC had in 1986: Kissyfur, Gummi Bears, Smurfs, Punky Brewster, The Chipmunks, Foofur, Kidd Video, and of course One to Grow On. I would get up at 6 am on Saturdays just so I could enjoy a full morning of cartoons and a half a box of corn flakes swimming in sugar. Usually the high sugar level had me jumping around like a hummingbird, but once NBC put Gummi Bears, Smurfs and The Chipmunks together they had me hooked. Some of these titles may not be familiar to all you so lets take a closer look at them.
Kissyfur
Kissyfur is the story of a bear (Kissyfur) and his father (Gus) who leave the circus to live in the swamps of Paddlecab County. They use the skills they acquired in the human world to protect the denizens of Paddlecab from the gators, Floyd and Jolene. Kissyfur ran from September 6, 1986 – February 28, 1987 for a total of 46 episodes. Sadly, the Kissyfur series is not available on DVD. You can manage to find home brewed collections of it on eBay every once in a while and of course, you can always check YouTube.
---
Gummi Bears
Oh Gummi Bear, how I miss you. Often overshadowed by its more successful predecessor Duck Tale, I have always thought Gummi Bears the superior product. While I do love Scrooge McDuck, the story of a dying race of magical bears in a semi-medieval setting will always be my first choice. Not sure why Disney had let this property sit on the shelf. I would definitely buy some direct to DVD Gummi Bear adventures. Gummi Bears ran from September 14, 1985 – September 7, 1991, for a total of 95 episodes. Adventures of the Gummi Bears, Vol. 1 – Seasons 1-3 were released on DVD in 2006. We are still waiting on Volume 2 and rumor is that it might be released this year.
---
Smurfs
The Smurfs got their start in 1981 and ran until 1990 for a whopping 256 episodes, making it one of the most successful cartoons in history. Most of you know the show revolves around the antics of the blue mushroom dwelling forest dwellers, but did you know that an animated motion picture "Smurfs" is in development? The movie is scheduled for a 2010 releases. Rumors about casting have been circulating for over a year now, but nothing seems to be set in stone. It is all very mysterious. I have reached out to some people, so hopefully more info will be posted on the site soon.
The Smurfs (Seasons 1-5 Boxset) is available on DVD. It is glorious
---
It's Punky Brewster
"It's Punky Brewster" was the short-lived spin-off of the live-action sitcom "Punky Brewster". The cartoon used all of the same characters and actors from the original show with the addition of a magical gopher (yup) named, Glomer. Glomer could magically transport Punky and pals around the world. Which allowed her to get into all sorts of misadventures.
The show ran for 2 seasons from September 14, 1985 – December 6, 1986 for a total of 26 episodes. It is currently not available on DVD, but if you want to hang out some time, I have the whole series on VHS (or you could just check YouTube).
The complete series of the non-animated Punky was released on DVD.
---
Alvin and the Chipmunks
Anyone who grew up in the 1980s is well aware of the "Alvin and the Chipmunks" animated series. The show was wildly successful running from September 17, 1983 – December 1, 1990 for a total of 102 episodes. Of course the Chipmunks did not start in the eighties, they started 25 years earlier in 1958. So far a sequential volume collection of the series has not been released.
---
Foofur
Foofur ran for 2 seasons on NBC from September 13, 1986 – February 18, 1988, for a total of 46 episodes. The show, produced by Hanna-Barbera, revolved around the aforementioned Foofur, a blue hound dog. Foofur's voice was supplied by the very talented Frank Welker of Transformer's fame. Foofur is not available on DVD but the VHS, Foofur:Legal Beagles and other episodes are available on Amazon.
---
Kidd Video
Kidd Video and his band are kidnapped by Master Blaster, and transported to a cartoon world called The Flipside. There they are rescued by a fairy named Glitter. They then spend the rest of the series trying to help people in this animated realm, while at the same time trying to get home. It is sort of like "Dungeons and Dragons" with instruments. Kidd Video was an attempt by the networks to MTV-ize Saturday mornings and the effort was less than successful. The show ran from September 15, 1984 – December 7, 1985, for only 26 episodes. At the time I remember thinking the show was trying way too hard. In retrospect…this show is awesome!! Kidd Video is not available on DVD, but I desperately want it.
One to Grow On
These much referenced PSAs ran from 1983-1989. They were sometimes preachy, borderline heavy-handed, and always great. Of course greatness is all you can expect from a series that brings together such disparate talents as 227's Jackée Harry and Riptide's Perry King. "One to Grow" has never been released as a collection in any format, but many have been posted by enthusiasts on YouTube.