Hey Skinny! Yer ribs are showing! or The Retroist Goes to the Beach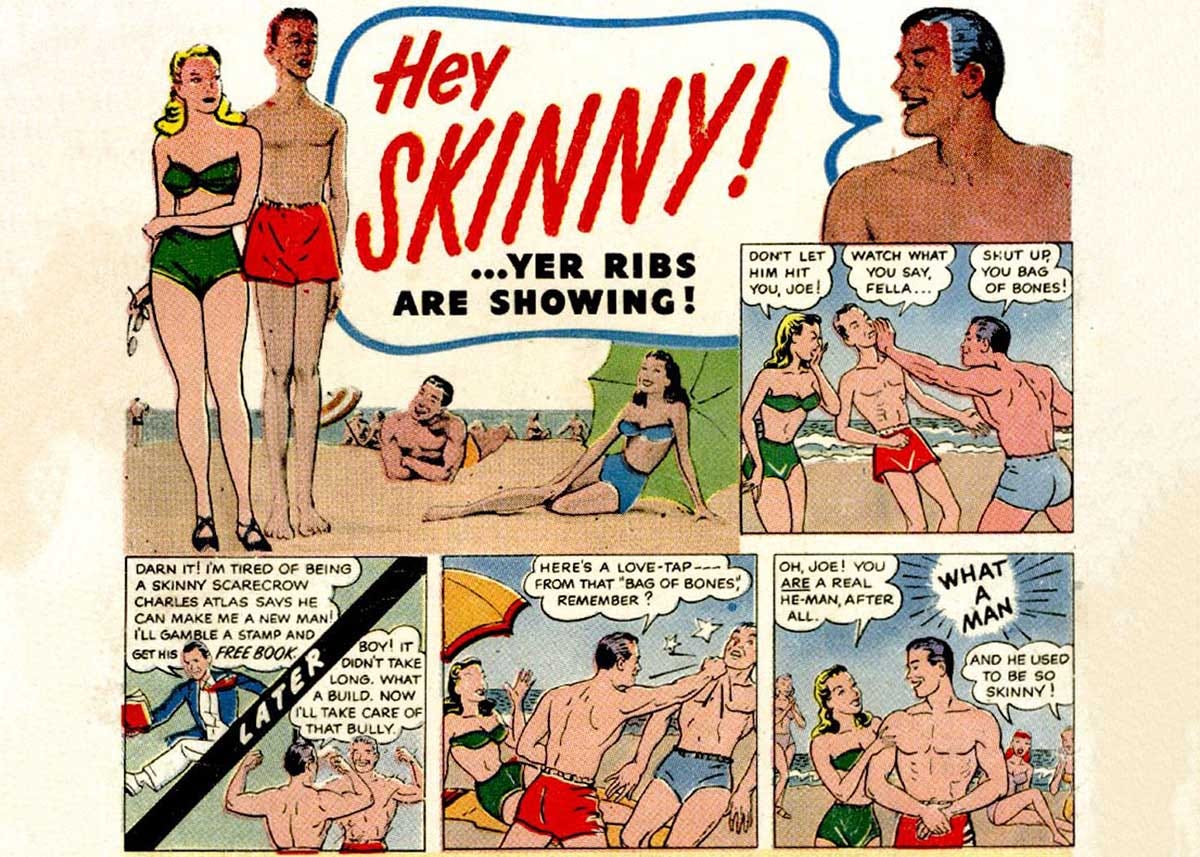 Below is a just a scene from my upcoming short autobiographical film, The Retroist Goes to the Beach. Enjoy.
EXT. SUNNY BEACH – DAY
It is warm summer day at the Jersey Shore. The Retroist and his girlfriend Tanya Roberts are frolicking.
The Retroist is wearing a one piece and Tanya is dressed like Kiri in "The Beastmaster."
The Retroist
Wow, Kiri, I mean Tanya, I am having a great time here at lovely Sandy Hook.
Tanya
Me too The Retroist. I have never had so much fun. Now lets enjoy our Fried Chicken Picnic.
They sit down and start eating a bucket of fried chicken on a red checkered blanket. It looks very crispy. I am not sure, but it might be extra crispy and not original recipe.
Enter Big Tom Hill — He is named for a Hill but is as big as a Mountain.
Big Tom Hill
Hey Tanya. How you doing? I am Big Tom Hill and I want to enjoy your chicken.
The Retroist
(whining)But this is our chicken feast!
Big Tom Hill
Ha! Settle down Little man. You look warm. How about you take a swim?
Big Tom picks up The Retroist and throws him out beyond the sandbar. Big Tom takes a seat next to Tanya on the blanket. His muscles glow and ripple.
Tanya
Thanks Big Tom. Looking at that pip squeak made it difficult to eat.
Big Tom Hill
I understand. Weakness is an appetite suppressant. Now prepare for a feast.
He starts flexing and Tanya swoons. They feast.
The Retroist can be seen in the background being eaten by sharks.
Fade to Black
---
This is a friendly reminder that summer is almost over, but you still have a few weeks to drop the flab and pack on the muscle. Don't end up like The Retroist — Subscribe to the Charles Atlas Program and you can see results in just 2 weeks.