Discover more from The Retroist
A Retro Podcast, Blog, and Newsletter.
Sid Meier's Pirates!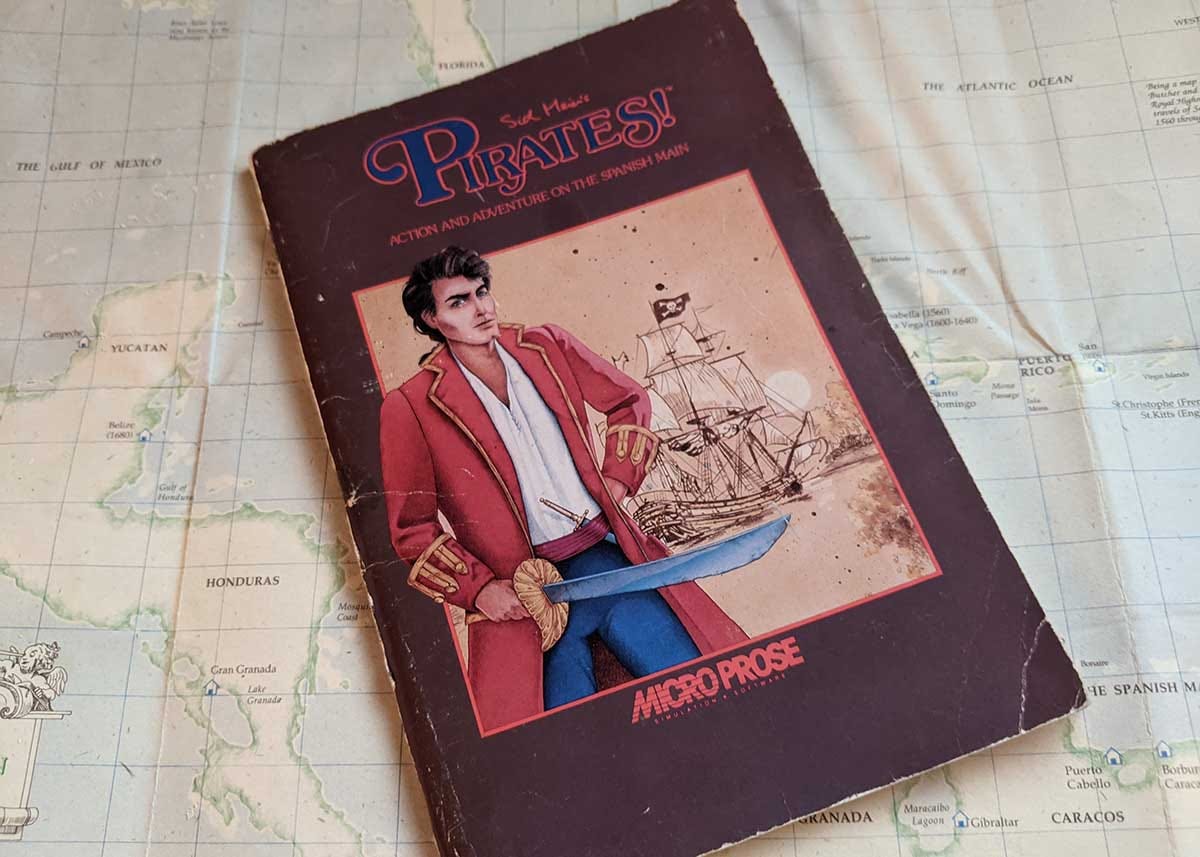 In 1987 a game was released for the Commodore 64 that would stick with me for the rest of my life, Sid Meier's Pirates! It was a casual fantasy simulation of pirates and as a fan of books and movies about pirates, I could not play it enough.
I played it for years, even giving a presentation about it in school that involved me hauling my brand new Commodore 128 in just so I could demonstrate it properly.
The game was a big hit for the storied company MicroProse and the first game they released to have the name of its even more storied designer Sid Meier attached to it.
Sid Meier
After graduating from the University of Michigan with a degree in computer science in 1981, Sid Meier bought an Atari 800 computer. After tinkering with it, he quickly realized that with his skills he could make video games.
This was an interest he shared with co-worker Bill Stealey and the two founded the company MicroProse in 1982.
The company started with several 2D action games before jumping into the world of flight simulations and releasing titles like Spitfire Ace and F-15 Strike Eagle.
Sid would eventually become a legend in the gaming industry because he designed great games and MicroProse wisely began attaching his name to games. This practice started with the release of Pirates!
In addition to Pirates!, Sid would have his name attached to a bunch of other games, none as successful as the 1991 ongoing strategy juggernaut, Civilization.
The Birth of
Pirates!
In the middle of the Eighties, MicroProse was defined by its vehicle simulators and they were well-respected in their niche. Two people at the company, Arnold Hendrick and Lawrence Schick wanted to jump into roleplaying games with a game that would eventually become Sword of the Samurai, but they hit up against resistance from company cofounder Bill Stealey.
According to Schick in a 1990 article from Computer Gaming World titled, The Secret History of Sword of the Samurai.
Clearly, only co-owner Sid Meier was going to be able to change Bill's mind about role-playing adventure games, so we were quite pleased when Sid got interested in creating one of his own. Sid and Arnold came up with Pirates! and Major Bill was converted.

Lawrence Schick (The Secret History of Sword of the Samurai)
Why had Sid Meier suddenly come around to the idea of making a game about pirates when his company was well-known and doing well by making simulators?
According to Sid, he had heard the idea for a pirate game in a meeting with Arnold Hendrick as something that could be used to flavor one of their combat titles. He liked the idea, but not the part of it being a technical simulation of pirate ship combat.
Sid says in his autobiography,
The Sid who cofounded MicroProse four years earlier would never have believed it possible, but I was growing bored.

Mostly I was tired of hyperrealism. If real life were that exciting, who would need video games in the first place?

Sid Meier (Sid Meier's Memoir!: A Life in Computer Games)
From this thinking, Meier realized that if he wanted a video game that was pure escapism, he couldn't just make a boat simulator. He instead needed to make a game that captured the essence of what he thought was fun about being a pirate. This meant sword fights, billowy shirts, and swinging from ropes. He wanted to make an adventure game.
At the time the adventure game genre already existed and it was far from what he envisioned. The term "adventure game" was applied to games like Zork or Colossal Cave Adventure. In those games text was the primary way of interacting with the game environment.
A gamer playing a pirate in an adventure game of this era who wanted to swing a sword wouldn't use a joystick or well-timed keystrokes. They would instead just type "use sword." Even more advanced adventure games like King's Quest still relied on this control paradigm.
Meier wanted to shake things up and make an adventure game worthy of its time. One that he would want to play. Bill Stealey attempted to talk him out of it, but he could tell that Sid was dug in on this. At this point, we get two stories about how Side Meier's name would come to get attached to Pirates! and many games that would follow.
Sid Meir's Pirate-Whatever
Both stories are fun and don't exactly contradict each other. Although when you hear the second one, you will understand why that is the one that tends to get repeated. Let's start with the first story from Meier.
According to Sid, Bill would become so frustrated at the prospect of not wanting MicroProse to work on this new style "adventure" game that he said,
"Well, we should at least put your name on it. Side Meier's pirate-whatever. Then maybe the people who liked F-15 will recognize it's you, and buy it anyway."

Bill Stealey
It's a logical response and one that makes good business sense. Bill's version of this origin is much more glamorous in that it involves a celebrity.
Bill was at a dinner event for the Software Publishers Association and a fellow attendee was none other than legendary actor and comedian Robin Williams. While Williams was not involved directly in the gaming industry, he was a big fan of video games. He was also a big believer in the rights of artists, which is how his attendance at an event has been explained.
Well, Williams was talking to Bill about video games and he said, "Bill, you should put Sid's name on a couple of these boxes, and promote him as the star."
Now both of these stories could be true. One could have just taken place before the other one. Whichever story happens to be true, Sid Meier's name would start appearing at the top of his games and it would catapult that name into the exclusive pantheon of name brand video game designers.
The Development of
Pirates!
Now that they had the idea for a new type of game and a basic direction, they just needed to build it. This was a double-edged sword. On the one hand, it had never been done before, so they could do whatever they wanted. But on the other hand, they had no "tried-and-true conventions" they could fall back upon. It was game design without a net and a bad decision at any point in the evolution of the game could spell disaster.
Meier came up with a simple criteria during the game's development. Whenever they made some progress he would ask himself, "Would I want to play this game?" If the answer was yes, they would continue forward. If it was no, they would roll things back.
What was taking shape here was what people would eventually call an open world or sandbox game. One where players felt freedom to explore while a narrative developed around them.
This is not the first game of that type. As far back as 1975 people were playing these types of games. While a steady stream of them had been built leading up to Pirates!, none of them were quite like what MicroProse was hoping to accomplish. The real trick was finding the balance between freedom and not enough freedom. Players might like choice, but as Sid said, "No one prefers fill-in-the-blank over multiple-choice."
The problem with text parsing games like Zork was that they usually had one or maybe two "right answers" when you were taking an action. That means they also had an unlimited amount of "wrong answers" which does not make for a fun play experience. The design of Pirates! would come down to this maxim,
He started to make a list of gameplay elements based not on how pirates acted in real life, but instead on how they were portrayed in pop culture. They wouldn't be violent sociopaths, instead they would be dashing misunderstood good guys. This helped to frame game elements, but also set the tone for the game.
This was a brilliant turn. While they couldn't borrow concepts from existing game, they could borrow liberally from pop culture. When a player fired up Pirates!, they already had a backstory in mind based on the historical fictional version of pirates.
It is why any novice can jump into a game of Pirates! without a longwinded backstory or tutorial. This was great for players but also helped to save memory that was at a premium on computers of the era.
Fonts to the Rescue
Pirates! is primarily a game about sword fighting and ship navigation and combat. Even though they could save a lot of technical resources with their liberal use of the more well-known aspects of the pirate genre, they still needed to build a game using 1986 technical limits.
With ships and swords, they could not afford to animate much else, so they turned towards illustrations to help flesh out the game. By 1986, one could do pretty sophisticated graphics works in a computer game, but Sid, "wanted lots, and it still seemed impossible to fit them all in."
It was programmer Randall Masteller who came up with a novel solution to their problem. Using an old idea to give the game the art assets it required. The solution was fonts.
Fonts are an important part of a computer's operating system and so they are optimized to use fonts. Programmers had known for years that by using fonts to present information in game, it could run faster.
So instead of a standard font set, Pirates! would load a custom font made up of small images. The next step was to have a sequence of font characters that could make up an animation. For example a pirate holding a sword, might be the letter p, while a pirate lunging with that same sword was the capital letter L. Instead of using the graphics chip on the computer to draw those two things, you just load the fonts and move between p and L.
That is a very simplified way to look at it, but you get the gist of it. Pirates! took this to higher levels breaking images into various elements that would be unrecognizable unless loaded in exactly the right order, then suddenly you have a beautiful sunset or a rowdy group of pillaging pirates.
No One Dies in
Pirates!
Early on in the design of the game, Meier made the decision that you cannot lose in Pirates! Sure you can have a bad game, but you never die in the game.
This became a game about a career in pirating. So if you lose a swordfight, you are captured and escape. If your ships sinks, you will eventually be rescued.
These are just setbacks in the life of your character. It was an interesting choice for a game, but it played very well into the mythic image of pirates. In real life, many pirates had short and violent careers, but in movies and books, they always manage to find a way to fight another day.
As soon as you realize this while playing, it changes your tolerance for risk. Yes, you could still save your game and reset every time you did anything wrong, but with the penalty being so minor, you did not want to smash your keyboard after a frustrating loss.
That doesn't mean that the game is a cakewalk. Two factors will effect the relative difficulty of the game. The first is aptly called "Difficulty Level." At the start of your career and every time you divide your plunder, you can decide what difficulty level you want the game to be set at. Choosing a higher difficulty level makes the game harder, but increases your share of the loot.
The second factor in the game's difficulty is age. As the game progresses your character's age goes up. With age comes slowness, you no longer move as quickly in a swordfight or you are slightly more sluggish when trying to control your ship. It was a clever way to build the natural lifespan of a pirate into the gameplay itself.
At the end of every game, instead of a straight score totaling how you did, you are shown a screen that details the adventure of your pirate as if you are reading it in a history book. It was a great sendoff for a character you might have invested dozens of hours in and a great motivator to try and do even more in the next game.
Sid is not a fan of Violence
Another reason that Pirates! is largely non-lethal can be attributed to its designer. While a lot of video games embrace violent themes, Sid Meier has tried to downplay or even push back against violence in his games where possible. Especially when it came to violence in the "immediate, bodily sense."
This is a personal choice for Meier, who is opposed to any form of censorship in the creative process, but when given a chance he will downplay or remove the violence from his game. He saw the trend of excessive violence and fore in games as "a cheap and short-lived path to player engagement."
Sid Meier's Pirates
! Gameplay
Avast matey! Ye be wanting to a pirate aye? Well you sure did load the right game.
In Pirates! you take the role of a buccaneer in the Caribbean during the golden age of piracy. To start you choose a name, one of four nationalities, the "historical period" you want to start in, a difficulty level, and one of five special abilities.
Starting Nationalities
Dutch

English

French

Spanish
Historical Period
The Silver Empire (1560)

Merchants & Smugglers (1600)

The New Colonists (1620)

War for Profit (1640)

The Buccaneer Heroes (1660)

Pirates Sunset (1680)
Special Abilities
Fencing

Navigation

Gunnery

Charm & Wit

Medicine
Difficulty Levels
Apprentice

Adventurer

Swashbuckler
You are then thrown into the game and need to choose what sort of adventure you want to pursue. Will you be a swashbuckling rogue, a craft pirate hunter, an honest trader? How about all three? The choice is yours as you navigate and fight your way across the high seas.
Your ultimate goal is to retire from the game with as much loot, titles, and land as you can get your hands on. Along the way, you will encounter evil characters who can help reunite you with your family or uncover lost Incan treasure. Hey, play your cards right and you might convince a governor's daughter to marry you.
A Great Feelie
Like all MicroProse games, Pirates! came with an amazing info-filled manual. It is an epic 88-page booklet written by Arnold Hendrick. In its sepia-tinted pages, you will find information on how to play the game along with historical details about the people, ships, weapons, and geography you will encounter when you are playing the game.
It was Hendrick who insisted that pirates only be used in the game when they were alive during that era. So historical figures like Blackbeard and Jean Lafitte were excluded from the game. Meier thought these constraints just helped to bolster "the larger theme of romanticized adventure."
Why? Well for a game about high cinematic adventure, those two were, as Arnold mentions in the manual's Designer Notes, "…psychotic remnants of a great age, criminals who wouldn't give up. There was not political intrigue or golden future to their lives, just a bullet or a short rope. We found them unattractive and uninteresting compared to the famous seahawks and buccaneers that preceded them."
The manual also served as anti-piracy protection. In the game you will be asked questions that can only be answered if you have a copy of the manual. It was simple but effective method. If you couldn't guess when the Silver Train would be in Cumana in 1640, you wouldn't be able to play the game.
The game also came with a great and useful map of the Caribbean that made playing the game a lot more enjoyable. Mine hung on various walls of my room for years.
Maps like this were commonly referred to in the industry as "feelies". Which was a reference to the tactile entertainment mentioned in the novel, Brave New World.
The map and manual for pirates were extremely durable. I know this because decades after buying my copy and using them non-stop for years, mine are still in great shape.
Release Timeline for
Sid Meier's Pirates
Sid Meier's Pirates! was released on May 8, 1987. Sid says in his autobiography that he was not sure how it would do. His company had a reputation that could sell simulations, but Pirates! was a slower burn.
Not too slow though because in the first year they were already making plans to port the game to various systems. Here is a timeline of the release of the original version of Pirates!
Commodore 64 (1987)

Apple II (1987)

IBM PC (1987)

Apple IIGS (1988)

Macintosh (1988)

Amstrad CPC (1988)

Atari 1989

Amiga (1990)

Nintendo Entertainment System (1991)
Reception
Pirates! was a resounding success both financially and critically. Publications at the time gave it high marks across the board. My magazine of choice at the time, Dragon gave it 5 out 5 stars in issue 132. Computer Gaming World named it 1988's "Action Game of the Year" and during the Origin Awards of 1987, it won "Best Fantasy or Science Fiction Computer Game" and "Best Screen Graphics in a Home Computer Game."
In the years that would follow it would continue to win accolades, but oddly enough never received a sequel. Instead, it would get two enhanced versions. The first in 1993, was called Pirates! Gold, and the other, released in 2004, just went by the old name of Sid Meier's Pirates!
Pirates! Gold
In 1993, Pirates! Gold, an enhanced version of the original game was released for Windows 3.1, DOS, Macintosh, and Sega Genesis. The following year it would get an Amiga release.
Each of these versions were updated with VGA graphics, enhanced audio, and mouse support. I picked up a copy for my Windows machine at the time and instantly fell back in love with the game after being away from it for a few years. Eventually, I even picked it up on sale for my Sega Genesis to see what it was like to play it on that system.
This version of the game did very well, according to Microprose, they sold over 450,000 copies by September 1997.
Nowadays when I play Pirates! Gold, I do so on the Amiga via my MiSTer FPGA. It is still extremely playable and the graphics are gorgeous on that platform, but if you want to play an updated version of the game, you might want to check out the 2004 remake.
Sid Meier's
Pirates! (2004)
After the release of Pirates! Gold, MicroProse went through lots of changes, including Sid Meier leaving the company and starting a new venture called Firaxis.
Unfortunately in the years that followed, much of the intellectual property that Sid's name had been attached to had changed hands. This included Pirates!
But with the new millennium came new associations and when Firaxis was absorbed into Take 2 Games, they were able to also re-acquire the rights to Pirates!.
Sid decided to revisit the Spanish Main once again, but this time the game would have 3D graphics, a modern physics engine, and dancing!
Anyone who played the original version of the game can jump right into the new version of the game. The only major new game element is the dancing. It is a rhythm mini-game that requires focus, concentration, and a decent controller.
The Windows version of the new Pirates! was released on November 22, 2004, and it was very well-reviewed, especially by me. I picked up the game the day it came out and played it nearly non-stop for about a month afterward.
Over the years this version would get released on most consoles and handhelds of the time. The even released a mobile phone version.
Nowadays you can still play the game via Steam, but you will want consult the forums and user guides there to see if it is compatible with your current gaming setup.
One unusual quirk of the game is its use of the computer Numpad for control. It's an elegant setup and interface if you have a Numpad, but the game is a challenge to play without one.
When I started to play again, I found a USB Numpad to be a worthwhile investment. It doesn't take up much space and the reduced latency from the wire will help with the dancing part of the game.
Mods for Sid Meier's Pirates!
While the Pirates! was not explicitly designed to be modified by users, several people have released game updates. These mods will do helpful things like update the game's graphics, alter the gender of the lead character, make it more challenging, or even change the setting for the game.
Here are just a few you might want look at:
I have tried all of these and played them successfully, but this is user-generated content, so your experience may vary.
Remember these mods are for the 2004 version of the game and that messing with Mods can be messy. So be careful and make sure you are able to back up or reinstall your game.
Conclusion
It has been over 16 years since we had a new version of Pirates! It is confusing to me why such a compelling piece of intellectual property just sits there. The 2004 update of the game was able to stick close to Sid's original vision and make a great title for modern systems. No reason the same could not be done now.
I have to admit, I have fantasies about the game and over the years have made notes about what I would like to see in an updated version. But the years continue to tick by and all I have are those pirate fantasies.
Whenever and however a new version is released, I will be first in line to pick up a copy of this game. In the meantime, I will continue to play classic versions of the original on older systems and Steam.
They might look a little older, but their playability is a testament to the strength of the game's design and the genius of Sid Meier and the team that helped him build this amazing game.