Discover more from The Retroist
A Retro Podcast, Blog, and Newsletter.
Magnum P.I. goes to Safeway
Sometimes watching old TV shows gives you a peak into other aspects of life at the time they were shot, like when Magnum PI visited a Safeway Supermarket in 1987.
One of my favorite parts of watching older TV shows is when they shoot on location. It helps to reinforce the time that the show was filmed, and if often does it better than any amount of art direction. So when a favorite show of mine takes the action to an arcade or a supermarket, I grab the remote and start pausing to better appreciate all the details.
In 1987, Magnum PI went on location to the Safeway supermarket at 377 Keahole Street in Honolulu, HI. We can confirm this because, at least right now, besides the windows and signage, the facade is still very similar.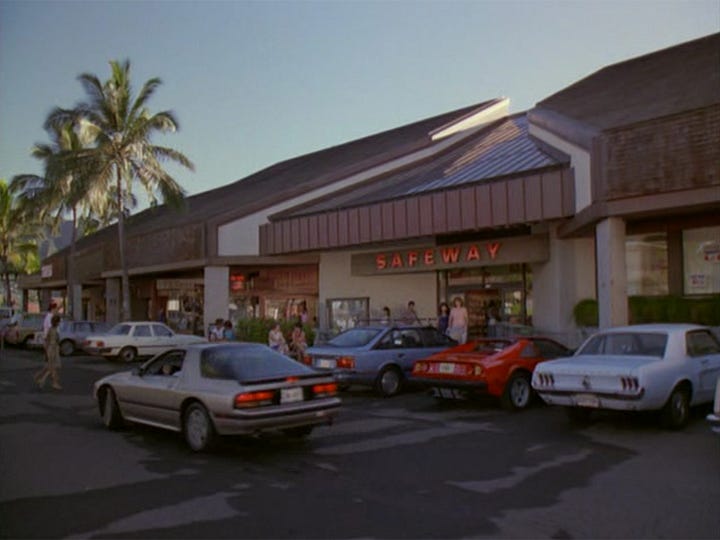 The episode, S08E03, Innocence... A Broad, aired in October 1987. The plot involved Magnum having to take on an assistant while investigating a case. It is very typical Magnum stuff, but the real magic happens at just over 15 minutes into the episode, when Magnum and his new sidekick arrive at the Safeway.
Thanks for reading The Retroist! Subscribe for free to receive new posts and support my work.
They are tailing someone they assume will do a slip and fall con to sue the store. This is great because it allows them to slowly move through the store as to not arouse suspicion, giving us a nice little tour in the process.
They start off in the soda aisle. Where we get a good view of classic Pepsi and Coca-Cola packaging.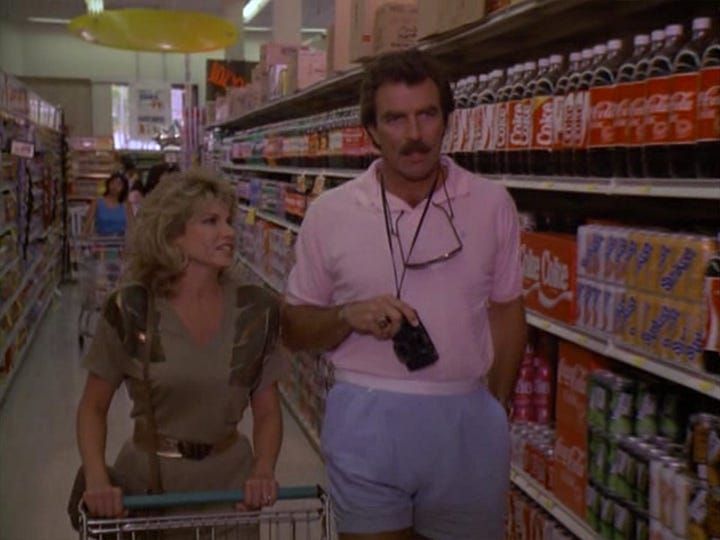 Then at the end cap, we get a shot of a delightful 7-Up display. It might not be very clear, but if you look to the right of the 7-Up you will see some packages on the second shelf from the top, that I believe are the classic snack, Screaming Yellow Zonkers. Below that are some old style Pringles cans.
Note: I am not a fan of the belt Magnum is wearing.
Next up, we have a pretty common site on Hawaii, a Lion Coffee display. Lion Coffee was founded way back in 1864 in Toledo, OH. The company would eventually fold in the 1960s before the name was purchased, and the company was moved to Hawaii. Where it is still based today. At this point, the company's revival was less than a decade old. So a nice bit of history to spot.
Short-lived snack alert! I believe we are seeing a display from what was the rollout of Nabisco duck-shaped crackers, Quackers. Dubbed the "little ducks with a lot of flavor," they came in 3 favors, original, sour cream & onion, and cheddar. Sadly, Quackers didn't last long, maybe 4 years, but they were really tasty. So it is pretty exciting to see them on the shelves.
Back in the day, the pet stuff at Safeway could be found at the "Snoopy Pet Center."
Next we head over to the produce section. We get an impressive shot of "The Melon Patch" signage, as well as the Flowers department with its Mylar balloons. Which I still thought were pretty exciting and futuristic in 1987.
Outside the Safeway, we get a great shot across the parking lot, where we see a fast food place I was surprised to see in Hawaii, Taco Time. Founded in the Pacific Northwest in 1960, the company began franchising in 1962. Taco Time opened its first location in Hawaii in 1979. Sadly, none are there nowadays.
Just for fun, I dug up this Safeway ad from the summer of 1987, which was the approximate time they were shooting this episode. I know you were all curious to see how much a cantaloupe from the "Melon Patch" would cost you back then.
Not every show will shoot on location, but I am glad when they do. This episode of Magnum takes the time to linger in the aisles and gives us a look at what supermarkets were like in 1987 in the realest way possible for a network TV show. They didn't plan it at the time, but by doing so they allow future generations who enjoy the show to add something extra to their rewatching, time travel.
Thanks for reading The Retroist! Subscribe for free to receive new posts and support my work.