Listen Up, Maggots! It's Sgt. Slaughter!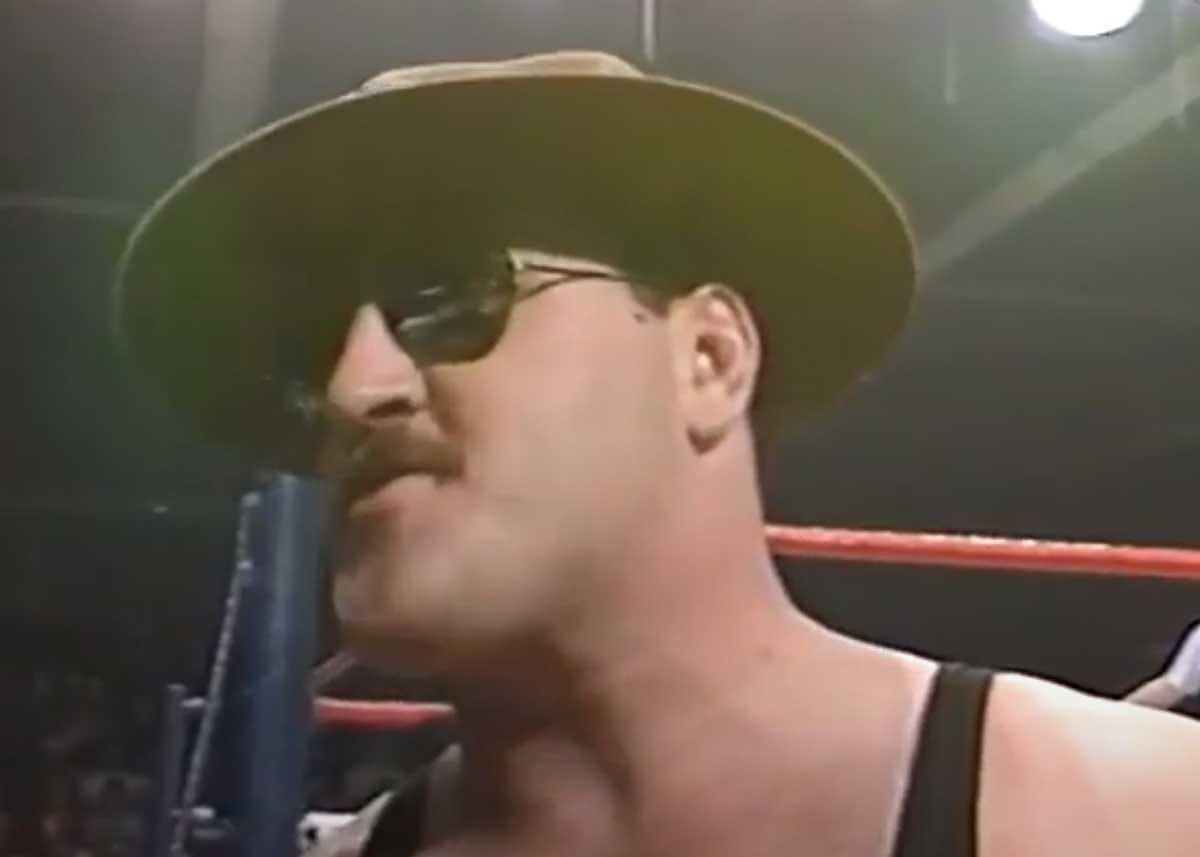 Rising up from the small town of Eden Prairie, MN, a former Marine becomes a national superstar. His popularity in the wrestling business will rival that of Hulk Hogan for a time, and his likeness will even join GI Joe. Sounds ridiculous? No, it sounds like the story of Robert "Sgt. Slaughter" Remus.
Remus began his career after leaving the Marine Corps in the 1970s in regional promotions like the American Wrestling Alliance (AWA) and National Wrestling Alliance (NWA). He wrestled under his real name and later on, as the masked Super Destroyer Mark II. By 1980, he found himself in the WWF, and rose to main event status like he was storming a beachhead.
Managed by the Grand Wizard, he wrestled top stars like Bob Backlund and Pat Patterson, and had a standing offer of $5,000 to any man who could break his "cobra clutch". Before he left in 1981, he and Patterson engaged in one of the best hardcore matches of the era, the famous "Alley Fight" in Madison Square Garden. If you've never seen that, it's part of the "WWE Falls Count Anywhere" set that is available on DVD or Netflix, watch it now! OK, finish reading my article first.
Growing up in Virginia, I first saw Slaughter wrestle live in 1982, for Mid-Atlantic Wrestling. He and Don Kernodle were the NWA Tag Team Champions and he also had a short run with the United States Title. By '83, he was back in the WWF, like he never left. He was managed by the Grand Wizard again, wrestling Bob Backlund for the WWF Championship. But in 1984, Slaughter made the turn to babyface and started in his most famous feud, against the hated Iron Sheik. The two were made for one another, natural opposition during the Cold War. This reached a peak with a Boot Camp Match in the Garden.
Sgt Slaughter might have been poised to be the biggest star in the company at this moment, but then a big blonde guy came in from the AWA and took over, but I can't recall his name. I do remember he always wanted kids to "train, say your prayers, and eat your vitamins". Not long after, Slaughter moved on again, back to his original home, the AWA. Many stories exist for the reason for his departure, but the most likely reason was Vince McMahon's refusal to allow him to cross-promote his likeness in Hasbro's GI JOE toy and tv show line.
When he returned to Verne Gagne's AWA, he was quickly made AWA America's Heavyweight Champion, when he defeated Larry Zbyszko. Over the next 2 years, he defended the belt against Zbyszko, Nick Bockwinkel, the Road Warriors, and other top stars. Eventually, he would challenge Stan Hansen for the AWA Title, but he wouldn't be successful. In 1990, he even defeated Larry Zbyszko for the AWA belt on ESPN, only to have the decision reversed.
During this time, he had become an even bigger celebrity, especially with kids. He released an album called, "Sgt Slaughter and Camouflage Rocks America" which featured the stunningly bad (even for an album by Sgt Slaughter), "Cobra Clutch."
In 1990, Slaughter returned to the WWF, but the great hero would be aligned with his old enemy this time. He returned and cut several scathing anti-America promos. As tensions rose in the Middle East later that year, he came out supporting the Iraqi cause, and needless to say, he was truly hated. He would defeat the Ultimate Warrior for the WWF Championship at the Royal Rumble in early 1991, with a great assist by the Macho King Randy Savage. (Hey didn't I promise you a second part of his story? It's coming) He would then main event Wrestlemania VII against that blonde guy, losing his title.
This would end Slaughter's time as the main man, although he would remain popular over the next year as he returned to babyface status. He then faded away, and really wouldn't be seen again until the rise of Degeneration X during the WWF's Attitude Era.
While his fame at the time was undeniable, his legend didn't flourish the way many of his contemporaries did. Probably due to his time in the late 90's, he is looked at as kind of a joke. Not a great worker, nor particularly good on the mic, but he had the right gimmick at the absolute right time. Robert Remus himself is not far removed from Sgt Slaughter, once stating that his time spouting anti-American rhetoric was very difficult personally for him, as he himself is a deeply patriotic man. Well, that's all for this time, keep your shoulders off the mat. DISMISSED!