Discover more from The Retroist
A Retro Podcast, Blog, and Newsletter.
Letting go of your Collection ♻️
If you are a collector, letting go of stuff can be challenging. I decided I would share how I have been saying goodbye to some items I enjoy.
I have been a collector of "stuff" for as long as I can remember. As a kid, if I had a box or shelf, I felt compelled to fill it with things I bought or found. Quickly, these things started to accumulate and take up too much space in my childhood home. Back then, when this happened, my Mom would find a way to make the stuff disappear. This new-found cleared space was just a new challenge for me to fill up, and the process repeated itself.
As an adult, I have found it necessary to police my collecting all by myself. This means I have developed criteria around what I buy, and more importantly, what I hold onto. Even with a page full of rules I have generated for myself over the years, I still find letting go of some things difficult.
Thanks for reading The Retroist! Subscribe for free to receive new posts and support my work.
For example, I collect stereo equipment. This is a collection that just sort of grew out of my desire to listen to physical media on a regular basis. At first, as I picked up a new component here and there, I wasn't sure it was a "collection." Eventually, though, volume dictated that I acknowledge that I had moved into the collection realm.
No big deal, I had done this before and I have developed a system around collecting that helps to constrain what I will collect. What I try to do is narrow the scope of what I can collect. In the case of the stereo equipment, it was simple:
What brand will I collect?

What window of time will I choose models from?

How much am I willing to spend?

What do I retain?
The first three were very easy for me to figure out. I knew that I wanted to rebuild a stereo from my youth, and that I didn't want to spend more than I might on a good modern stereo. Retention, though, that was a tricky one.
It was tricky because over time I have learned to fix some fairly common problems with electronics. Unfortunately, this has also led me to believe that fixing a less common issue was just one good video or forum post away from being learned. This led me to hold onto things that were broken in the hopes that one day I would get around to fixing them.
That policy ended this month.
I have decided that once a broken component has gone beyond my ability to either fix it or pay someone to have it fixed, it has got to go. So this week, I am saying goodbye to my Technics SL-P1 CD Player from 1985. Although mine was made in 1984.
The SL-P1 was Technics' first commercially available CD Player. This monster has a great sound and a handsome look that was guaranteed to turn heads. Unfortunately, it also stopped working.
After tinkering with it for a few months and watching lots of videos, I decided that it was time to donate it to a thrift shop. My hope is that it will find its way to a more knowledgeable owner who can fix it or use it for parts.
This brings me to my new tradition, and one that I think will help make the parting easier, the photo shoot. Before packing it up, I put it back up on the shelf and snapped a bunch of photos for posterity. It might not be mine any longer, but I will at least have something to remember it by.
So, enjoy these photos of a great CD player that I hope has gone on to bigger and better things.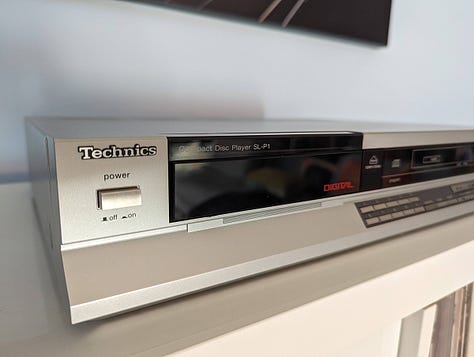 Thanks for reading The Retroist! Subscribe for free to receive new posts and support my work.