Do you remember Sir Grapefellow Cereal?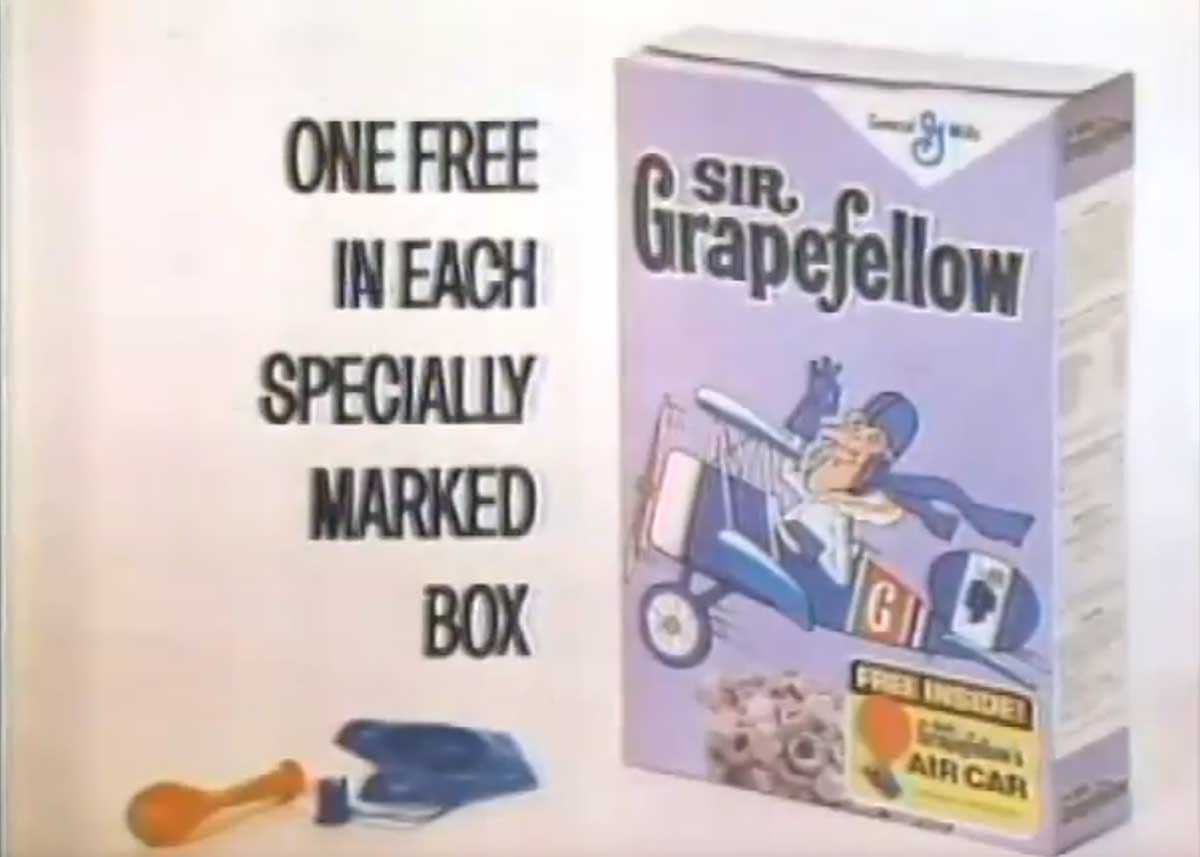 Growing up with older siblings could lead to a lot of envy, especially when they would brag on products I never got to try. Both of my sisters knew I loved breakfast cereals and they would regale me with tales of cereals I never got to try. On the looked especially swell was Sir Grapefellow cereal.
Grapefellow was a short-lived cereal created by General Mills in 1972. Its mascot was a World War I era pilot. His cereal was a grape-flavored oat cereal with grape marshmallows and his nemesis was Baron von Redberry. While I would have probably enjoyed Redberry, it was the grape cereal that captivated me.
Upon launch, they offered a bunch of premiums, both in boxes and as giveaways. Two of the ones I found that you could get in the box was a balloon-powered air car toy and a set of patches.
Each cereal came in an 8-ounce box. In 1972, a box would set you back about 39 cents.
Advertising
I never saw the commercials until a few years ago and they confirm, without even tasting these treats, that I would have been all over Sir Grapefellow.
In print ads at the time, they played up the rivalry of the characters, but also spelled out clearly what they were about. Both are broad caricatures and that is even reflected in print. Grapefellow is English while the Baron is supposed to be German.
I'm Sir Grapefellow. Try Me!

Pip, pip, and all that, Sir Grapefellow here to introduce my new grape-flavored cereal with sweet Starbits. It's fortified with 8 vitamins and iron, too! Ummmmm. Simply smashing.

Sir Grapefellow is the grapest!

Sir Grapefellow
Toy Glider Premium
In addition to the Air Car you could find in boxes of the cereal, the year these were released, they ran another toy offer. Where, with 2 proof-of-purchase seals and 25 cents, you could get two balsa wood gliders that depicted these two fruit-flavored aviators in their biplanes.
These ads usually ran in the comics section of newspapers.
I have looked online and at flea markets for these, but have never spotted one. I imagine that the kids who sent away for them quickly wrecked these fragile balsa wood beauties.
The Coloring Poster
To get kids further excited for the cereal, they also ran a coupon in papers where you could get 10 cents off a box of cereal. Attached to that coupon was an offer for four 18″ x 24″ posters that you could get for 25 cents and 3 box bottoms. The posters came with a box of 16 Crayola crayons.