Bow down to the Quiz Wiz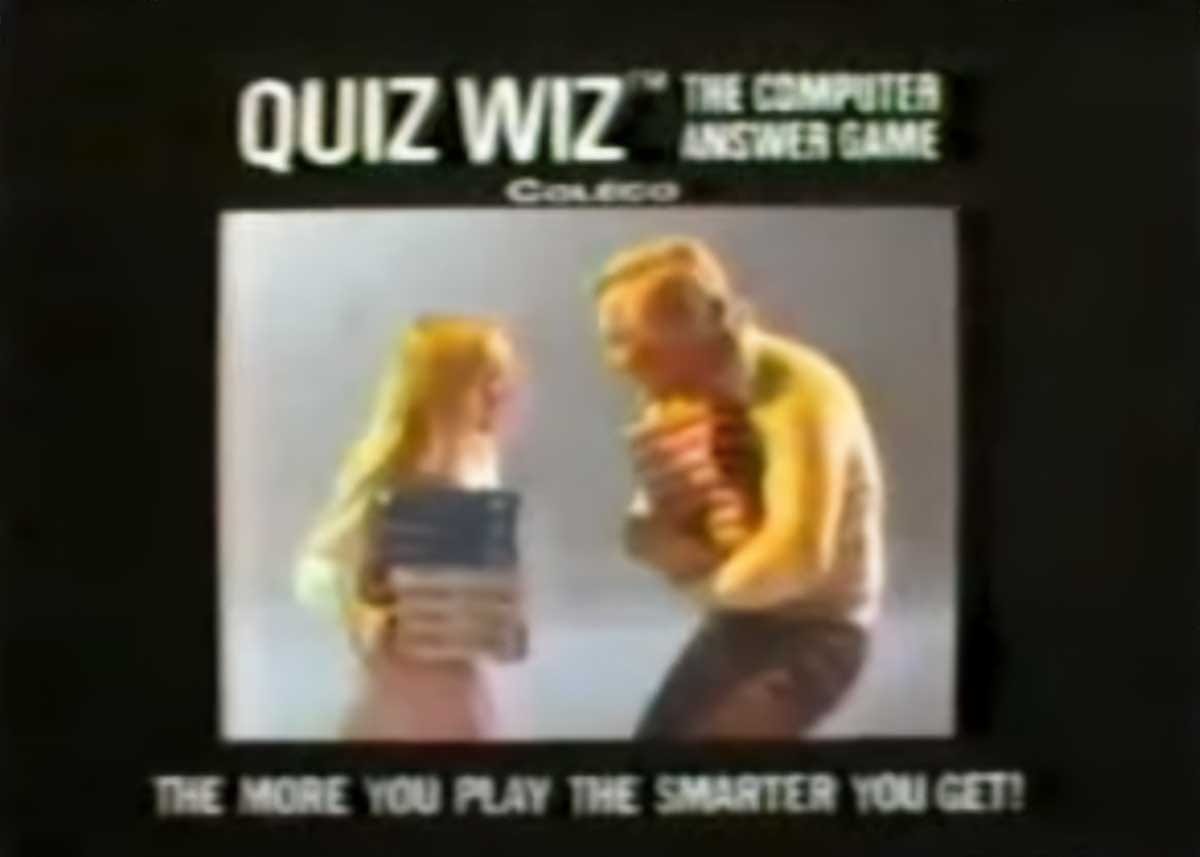 I was an obsessive fact reader as a kid and loved games and quizzes so I really wanted a "Quiz Wiz". I never did get one, but I got a nice set of Funk & Wagnall Encyclopedia that served me all the way through High School.
Released in 1979 by Coleco, the Quiz Wiz was a portable electronic quiz game that ran off a single 9V battery. The interface was simple. A numberic keypad, 4 letter keys, and an Answer and Clear button for inputting your answer, then a Yes or No indicator for if you got the answers correct or not.
Questions came from paired books and cartridges that you plugged into you Quiz Wiz. It came with one called "1001 Questions," but Coleco released several more. The list of quizzes is pretty impressive. I can see several I would want, especially Monsters, Vampires, Witches, and Ghosts.
1001 Questions

The World of Sports

Movies and TV

People and Places

Trivia

Music and Books

Math Mania

The Book of Lists

Greatest Sports Legends

Super Heroes

Disaster! When Nature Strikes Back

The Ocean – Mankind's Last Frontier

Energy – The Fuel of Life

How Things Work- Aerosols to Zippers

NBA Teams

NFL

MLB

Guiness Book of World – Volume 1

Guiness Book of World – Volume 2

Sherlock Holmes & Other Famous Mysteries

Greatest Sports Legends – Volume II

Monsters, Vampires, Witches and Ghosts

Words – Used, Misused and Confused

Super Trivia – Movies and TV

Rock N Roll – Doo Wop to Disco

The Bible – The Old and New Testaments

Soap Opera Digest

Ripley's Believe it or Not

Celebrity Trivia

Fascinating Facts about Animals
The advertising campaign was memorable. Here is one of the original commercials for the game.
In the the nineties, Tiger Electronics revived the Quiz Wiz. The technology looked slightly updated, but overall it looked to be the same gaming system. Naturally since it was the nineties, the advertising, which featuring "The Wise Guy" was a just a little but more "extreme."