Discover more from The Retroist
A Retro Podcast, Blog, and Newsletter.
Boomboxes, Arc Lights, and Santa Claus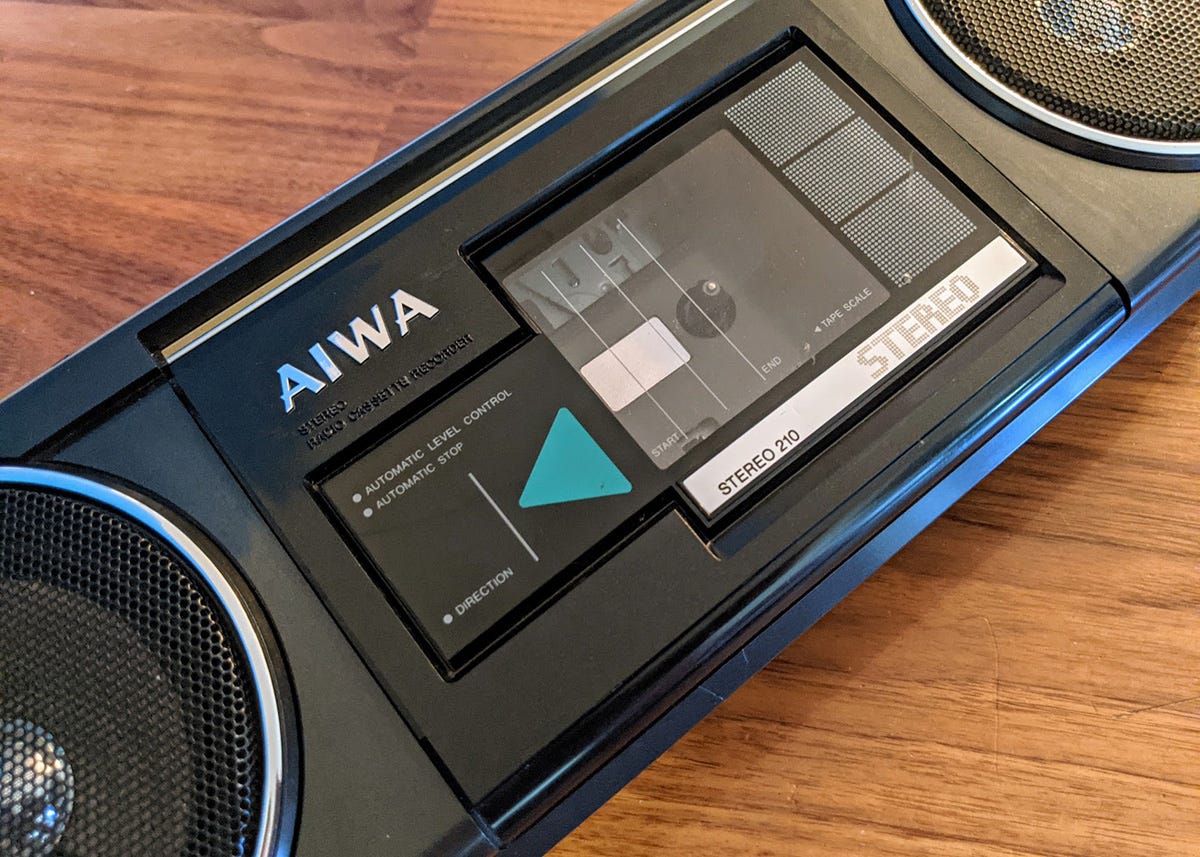 While wandering through a local Goodwill store, something familiar caught my eye. It was shoved between two old television sets, but it was unmistakable, an Aiwa CS-210 Portal Stereo. It was familiar to me because I got one of these secondhand as a kid.
My original is long dead, so I picked this one up, brought it home, and cleaned it up.
It is now sitting on my desk, looking good, and running great.
While cleaning it up, it got me thinking about the origin of boomboxes.
The History of Boombox
According to Wikipedia, a boombox is,
A transistorized portable music player featuring one or two cassette tape recorder/players and AM/FM radio, generally with a carrying handle.
When thinking about boomboxes, most people will associate them with the 1980s or at the earliest, the 1970s. So many will be surprised that the first-ever boombox dates back to 1966. It was manufactured by Philips and sold in the United States as the Norelco 22RL962.
While it might not have been as flashy as future boomboxes it was the template for what would follow. It had a cassette recorder, 4-band radio, carrying handle, and could be run off batteries.
It is not a common radio to stumble upon, but here you can see it in action on YouTube.
It's a pretty piece of technology. But why is a radio made by Philips sold under the name Norelco? The answer is interesting, but first a quick detour to the early 1800s.
Arc Lights
In the early 19th century people started to play with electricity more. They realized that when you had a prolonged electrical charge through the air it would produce visible light.
With this knowledge, Humphry Davy was able to invent the carbon arc light in the first decade of the 1800s. This would lead to the first commercially viable electric light that would light up cities around the world into the 20th century.
Then it was replaced by the more efficient incandescent bulb in all but very highly specialized uses that required very bright lights like spotlights and movie projectors.
When you are working around bright light, you will want to protect your eyes. This leads us to a fashion trend born from the arc light that continues to this day.
Sunglasses
Another fun fact about arc light is that it produces high-intensity ultraviolet light. When it was used on sets in early film production in the form of Klieg lights, movie stars would wear dark glasses on set to protect their eyes from UV damage when they were not on camera.
Fans would see photos of their favorite stars wearing these glasses and thought they looked cool (which they did). They quickly started to emulate them and the modern sunglass trend was born.
But before Klieg lights and sunglasses, a company would try and get involved in the arc light business.
They would be why we got a Norelco instead of a Philips boombox.
Norelco
In 1891, the Philips company was founded in the Netherlands. One year later, in the United States, the Helios Electric Company was founded in Philadelphia to manufacture Arc Lamps.
As that industry began to fade around 1906, they began making rechargeable batteries for the then brand-new auto industry. At this point, they would change their name to the Philadelphia Storage Battery Company. This long name would eventually get shorted to Philco.
Philco would go on to produce radios, televisions, and dozens of other consumer electronic devices. To protect their name, they took legal measures to prevent Philips from using their name to sell products. So in the United States, Philips would sell its products under the Norelco brand. Norelco is an acronym for North American Philips [electrical] Company.
Why do we see Philips products in the United States nowadays? In 1981, the Philco brand would be purchased by Philips. So if you see a Philco product in stores, it is usually a retro-looking product being branded by Philips with the Philco name to trigger some nostalgia to boost sales.
Santa Claus and Norelco
Whenever I think about Norelco, I don't think about boomboxes. I think about Santa Claus riding an electric shaver.
They started advertising the Norelco electric razor as a Christmas gift back in the 1960s. After all, what would make a better gift for the people in your life than an electric razer?
It was really the TV commercials they ran that captured people's imaginations. For many of us, it was a harbinger of the Christmas season on par with the more modern appearance of the Hershey's Kiss' Bells or Santa-themed Coca-Cola packs.