Looking for that perfect gift for a true 80s and 90s nostalgia geek? Look no further than Target's Nostalgic Gifts collection!
Totally awesome!
It All Started With a Shopping Trip…
My fiancee and I were running errands last week. One of our stops was Target, and their board game section. No big surprise – we always look at their selection, since they have exclusive games, and we're always looking for something for our game nights. I won't say all of them are great (The Oregon Trail card game is pretty cheesy), but the Bob Ross game (which is a variant of "Ticket to Ride") was surprisingly fantastic. Plus, they have a great nostalgic board game selection, in addition to their traditional, not nostalgic board games.
And then, we spotted it.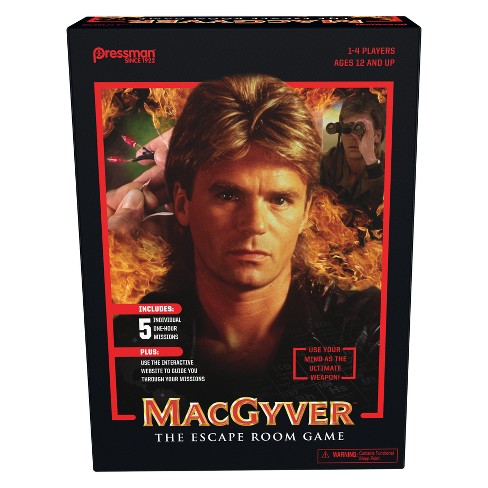 James asked me if I wanted it, I said yes, so we bought it.
We still haven't opened it (it's sitting on our dining room table right now), but the weekend (as I'm writing this, it is a Friday) is upon us. Perhaps we will?
And this wasn't the only nostalgia-mixed-with-contemporary-trend I spotted at Target.
The truth is, if you've spent any time at Target lately, they've really gone the side of nostalgic, and not just with their board games. They have a whole section of their website dedicated to nostalgic gifts. That's right, it doesn't stop with board games…that's actually where it starts!
Nostalgic Finds for the Nostalgic Target Shopper!
Friends, these are items you want, items you didn't know you wanted, items deemed necessities, and items deemed…"necessities." I love nostalgia as much as the next person reading this website, and I've toyed with the nostalgia as decor idea a few times. So far, my kitchen has been part of this nostalgic home decorating scheme (vintage tin signs for food and drink products? Yes please!). And if you're looking to deck out your home in the finest nostalgia, this is a great place to look.
They also have everything else 80s and 90s for your consideration.
So…do you like clocks? How about record players?
Makes me miss the nice big stereo with the record player and two tape decks my grandma had when I was a kid. Oh, and that record with "Tiny Bubbles" on it. My brother, cousins, and I will never get that one out of our heads.
If Blu-Rays of movies you liked growing up, Rubik's Cubes, and sweet Casio calculator watches are your persuasion, this page has it.
Be sure to stock up on Good n' Plenty the next time you and your crew play Mastermind!
We've got more movies, vinyl, and modern technology.
If you're going to watch The Goonies, be sure to pick up that Truffle Shuffle shirt. Because you can't watch the movie unless you do the Truffle Shuffle.  Those are the rules!

Cards of Humanity took on a 90s tone…
The Oregon Trail (1985 version) is now portable…
Life is never quite complete without Slinky and Big League Chew…
That Alice doll is screaming "buy me!", while Teddy Ruxpin's eyes hypnotize you…
I'm in the market for a case for my Nintendo Switch…
And makeup gets a great nostalgic home…
That pink Caboodle is really screaming my name!
Want to Check Out All Of Target's Nostalgic Gifts?
I've barely scratched the surface of this amazing list. If you'd like to find your perfect gift, be sure to check out Target's Nostalgic Gifts page!
And as for that MacGyver Escape Room game, I'll be following up on that at another time.
But until next time, I need to start playing with this nostalgic find…
Not all nostalgic finds have to be brand-spanking new (though this was pretty much new for its age), they just have to be cool.
Allison is a Secretary by day, a writer/blogger by night (and during lunch breaks and in the mornings before work), a nostalgia geek (and a geek in general), worshipper of Thor (and Chris Hemsworth), and honorary Avenger (she has a pin, so it is official).She collects Funko Pops, loves anything that takes her back to childhood, and has confessed her love for Kenny Loggins.Oh, and she listens to Chicago...alot.If any of this piques your interest, she'd love for you to visit her personal blog, Allison's Written Words, where she talks about alot of the same stuff she talks about here, and more!

She can be found at allisonveneziowrites.com.You can follow her blog on Facebook (facebook.com/allisonswrittenwords), Instagram @allisonswrittenwords, and on Twitter @AllisonGeeksOut.

(Her fiancee is supportive of the whole Chris Hemsworth and Kenny Loggins love thing.)
Latest posts by Allison L. Venezio (see all)