If you watched enough primetime cartoons in the 1990s (other than The Simpsons, of course), "it stinks!" may sound familiar to you. And many believe it to be a direct spinoff of The Simpsons (and they're so wrong!).
This show it comes from, you ask?
The Critic!
Before There Was Family Guy…
In the 1990s, one primetime cartoon was king, and that was The Simpsons. There was nothing quite like it at the time, and it ruffled quite a few feathers. Bart Simpson was every parents' worst nightmare, and the example that moms used when they said "this is not how you will behave!" Because my mom allowed my brother and I to watch the show, I never understood why so many other kids could not, and why parents were in such a tizz over The Simpsons. And that show was supposed to be family-friendly – I can't imagine what the people who got their panties in a bunch over The Simpsons felt when they saw Family Guy a few years later.
If you guessed they got their panties in a bunch AGAIN, you're right. Pat yourself on the back, you're so smart!
Picture it, a Brief Time in 1994 (and 1995)…
Between that time, in 1994, Al Jean and Mike Reiss, who were previously showrunners on The Simpsons, decided the time was right for another primetime sitcom, but not of the family variety. The premise, you ask? The life of a New York film critic named Jay Sherman. That's it. He's a film critic, he's balding, fat, has a child, is divorced, and has a Siskel and Ebert type show (called with all originalness, Coming Attractions) where he watched trailers for upcoming films. The movies he reviews are spirited parodies of actual films that you'll immediately figure out if you're familiar with movies of the time.
And they were hilarious! Who didn't want to see Arnold Schwarzenegger as a Rabbi Cop, Clint Eastwood make another Dirty Harry movie, a Raptor smoke a pipe, or Dennis the Menace shoot up Mr. Wilson?
A Critic(al) Response
In theory, The Critic seemed like a great concept. It was funny, witty, and was floated as a "love letter to New York." Plus, Jon Lovitz had name recognition and seemed like the perfect person to have his own series. So this should have been a hit, right?
Nope.
Like the tagline Jay Sherman used to describe the movies he was forced to watch and review, people were not fans. The Critic started off on ABC in January 1994, but moved to Fox in its second season. Despite improving ratings, the show was cancelled after two seasons, and twenty-three episodes. For several years in the mid-late '90s through its Fox airing and later Comedy Central reruns, this was regular viewing for my brother and myself.
Since I had no idea (at least, initially) that this show began life on ABC, I assumed it was premiering on Fox because of the crossover episode of The Simpsons, when Jay hosts a film festival in Springfield. Oh, and he badmouths MacGyver. I've never forgotten that. :-D
Original Run
The show originally premiered on ABC in their Wednesday night lineup beginning on January 26, 1994, but was cancelled after 13 episodes.
Uploaded by VHSgoodiesWA…and proof that this show aired on ABC.
The show promptly moved to Fox for the 1994-1995 season (airing all those original episodes during the summer explains why I thought it only aired on Fox). It followed The Simpsons on Sunday nights (a respectable timeslot), but was cancelled after the second season. A move to UPN never happened, and with no network to pick it up for a third season, The Critic was officially done.
Old Soul Approved
Admittedly, I've always been an old soul. Don't get me wrong – I was your typical kid when it came to toys and cartoons, but I loved primetime sitcoms growing up. As far back as I can remember, I watched many of the "important" ones that '80s babies grew up on, and even at a younger age, I liked the humor. As an adult, I have not spotted one sitcom I liked as a kid and cringed over it. Ok, except for Small Wonder. I now see why my mom was so weirded out by that show.
Where The Simpsons was low-brow and played to the "everyone can relate" stance, The Critic took a satirical approach to humor, parodying movies by combining different movies, lightening up some, darkening others, and parodying high-profile stars of the time. The movie parodies were brilliant – the "clips" were movies any smartass would love to see. And then there was the Orson Welles parodies – Maurice LaMarche is brilliant. Just sayin'.
Uploaded by seinfan9
The feeling of audience commonality to The Simpsons was parodied in one episode. Jay Sherman was often depicted as elitist and smart, but it was his over-the-top dramatics that made him funny and endearing to this "old soul." I always liked the humor of the show, even at 11-12 years old. The movie parodies were the highlight for me.
I sorta knew who Jon Lovitz was at the time (thanks to A League of Their Own). His is a voice you can't forget, and his haminess works perfectly for Jay.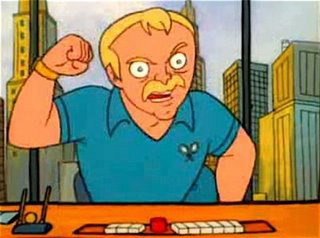 The only other character I laughed at as hard as I did at Jay was his boss, Duke Phillips, and while I knew who Charles Napier was (but not until much later), I didn't think that was his real voice! Duke's characterization was that of Ted Turner – a media conglomerate owner who rules with an iron fist.
And What About Those Movie Parodies?
Yeah, what about them?
Uploaded by Random Comment
There are many more amazing parodies, and this merely scratches the surface. There's this…
Uploaded by KnightedFrog
This…
Uploaded by YoKozo
These, and the many other parodies of the movies…not bogus!
Availability
The show aired in reruns on Comedy Central (where I watched it after Fox cancelled it), has been in syndication during the last decade, and made the trek to TV-on-DVD in one set with all 23 episodes, including the ten-episode Flash Animation webseries (2000-2001). The set is available on Amazon for a respectable price of $14.99. And yes, I own that DVD set.
And In Closing…
The Critic was one of those gems that lacked the proper respect in its time, but still holds up well despite its age. It had a great sense of humor that paved the way for the humor of Family Guy, and all of the shows that would follow in that vein. Ahead of its time? Maybe. Classic? Definitely!
How could anything with that distinction stink?
It is impossible!
Allison is a Secretary by day, a writer/blogger by night (and during lunch breaks and in the mornings before work), a nostalgia geek (and a geek in general), worshipper of Thor (and Chris Hemsworth), and honorary Avenger (she has a pin, so it is official).She collects Funko Pops, loves anything that takes her back to childhood, and has confessed her love for Kenny Loggins.Oh, and she listens to Chicago...alot.If any of this piques your interest, she'd love for you to visit her personal blog, Allison's Written Words, where she talks about alot of the same stuff she talks about here, and more!

She can be found at allisonveneziowrites.com.You can follow her blog on Facebook (facebook.com/allisonswrittenwords), Instagram @allisonswrittenwords, and on Twitter @AllisonGeeksOut.

(Her fiancee is supportive of the whole Chris Hemsworth and Kenny Loggins love thing.)
Latest posts by Allison L. Venezio (see all)